Forecast 2024: Heavy truck, alternative fuels
Power Systems Research: Despite forecasted Class 8 decline, hydrogen-powered development continues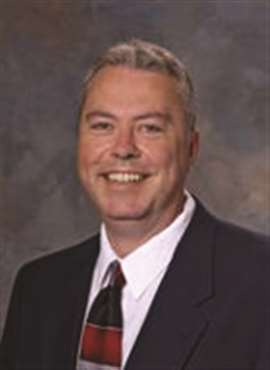 Chris Fisher is Senior Commercial Vehicle Analyst at Power Systems Research, an information and research supplier based in St. Paul, Minn., with offices located in Detroit, Brussels, Tokyo, Pune and Sao Paulo.
There are several factors driving the expected decline of heavy-duty truck production in North America next year. These include a slowdown in freight, which will result in excess truck capacity; the relatively high number of new trucks in the market as pent-up demand will be mostly satisfied by the end of this year; and continued high interest rates that are expected to last into next year.
Since the end of 2022, ocean-bound cargo has experienced a significant slowdown in freight demand. Domestic freight demand is in the middle of a significant slowdown as reduced consumer demand, housing starts and a slowdown in manufacturing is currently gripping the U.S. economy. This is expected to continue into next year.
We have seen a re-balancing in the truck market where truck capacity and freight demand is more in line, but we are now moving toward another imbalance where there is more truck capacity than freight demand.
Emissions regulations
While the order books are full for the remainder of this year, we expect truck bookings for 2024 to slow later this year and into next year. The OEM order bookings should start improving later in 2024 to ensure fleets can get new trucks prior to the 2027 emissions regulations.
Though Class 8 truck production will likely decline by around 20% next year, 2025 and 2026 should be strong years for truck demand as the industry prepares for the implementation of the 2027 emissions regulations. Vehicle prices are expected to increase and reliability concerns may become an issue surrounding the model year 2027 trucks. Production is expected to significantly decline in 2027 and be flat in 2028 as the effects of the emissions regulations take hold.
Part of the U.S. EPA's Phase 3 GHG proposal set to be implemented in 2028 is to electrify 25% of new long-haul trucks by 2032, as well as 35% of new short-haul regional tractors and 50% of vocational vehicles. The Phase 3 GHG regulations will span from 2028 to 2032, with each year seeing stricter requirements.
The EPA'S Phase 2 proposal for the 2027 model year tightens tailpipe NOx limits to a level 80+% below the current standard and reduces the particulate matter limit by 50%. The agency will also require that OEMs extend warranties to 450,000 miles from 100,000 and useful life limits to 650,000 miles from 435,000 miles. Accomplishing this will certainly increase the cost of the trucks significantly.
Trucking associations, fleets and even OEMs are pushing back on these regulations, primarily due to the short implementation time frame and added cost associated with meeting the standards.
Alternative power
With regards to alternative power, we have all heard during the past few years that battery-electric power will ultimately replace the diesel-powered internal combustion engine for commercial trucks. At some point in the future this might be true for short and regional haul freight carriers but what about the long-haul heavy truck segment?
Currently, the lack of charging infrastructure, range anxiety and the extreme weights associated with the batteries will be a significant deterrent to mass adoption of long-haul battery-electric trucks. However, hydrogen fuel cell trucks for long-haul applications appear to be a viable option in this segment.
But even though fuel cell trucks currently have a greater range and lighter weight than battery-electric trucks, they have the same problem as electric trucks due to a lack of a power infrastructure.
EU makes forward progress
In 2022, there were approximately 250 operational hydrogen refueling stations in Europe. Earlier this year, the EU nations agreed to add hydrogen refueling stations in all major cities and every 200 km on the major routes. The plan is to have complete network coverage by 2030. The EU likely will provide subsidies for the infrastructure, but it will be the private sector that likely will drive this project.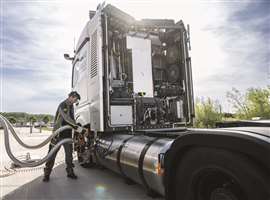 There are numerous joint ventures surrounding hydrogen infrastructure including several that involve major organizations.
In 2021, Shell and Daimler announced the rollout of a hydrogen-based trucking initiative in which Shell will initially establish a hydrogen refueling network that joins the Port of Rotterdam with Cologne and Hamburg. This would create an infrastructure corridor. The corridor is expected to include 1,200 km with 150 hydrogen refueling stations.
At the same time, Daimler plans to introduce hydrogen fuel cell trucks to customers starting in 2025. The company plans to offer approximately 5,000 heavy-duty fuel cell trucks by 2030.
In April 2021, Daimler and Volvo announced a joint venture known as Cellcentric to jointly manufacture hydrogen fuel cells for trucks in Europe starting in 2025. At that time, they called upon the EU policymakers to boost incentives for climate-neutral technologies.
The plan is to begin testing the fuel cell trucks by 2025 and to launch mass production by the end of this decade. Daimler and Volvo have also cited the need for 300 high-performance hydrogen refueling stations for heavy-duty vehicles by 2025 and 1,000 stations by 2030. Both companies have stated that battery-electric trucks will work for short-haul applications, but hydrogen fuel cells should play a major role in the longer haul segment.
Last year, the EU announced that in some circumstances natural gas will be considered a "green" energy. This move would be beneficial to the production of hydrogen fuel. Prior to this announcement, it would have been very difficult to produce enough green hydrogen to support the type of fueling infrastructure required for mass adoption of hydrogen-fueled vehicles.
North America's geographic challenge
In North America, the path for hydrogen fuel cell vehicles is not so clear. Currently, there are 62 hydrogen fueling stations in the United States and Canada, most of which are located in California. The sheer geographic size of the U.S. and Canada makes it challenging to develop a significant refueling infrastructure in the near to mid-term.
In October 2021, Nikola signed a memorandum of understanding with Opal Fuels to build and operate hydrogen fueling stations across North America. Under the preliminary agreement, the two companies will work to co-develop the technology necessary to accelerate the adoption of fuel cell electric vehicles.
Also in 2021, Nikola and Travel Centers of America (TA) agreed to collaborate on the installation of hydrogen fueling stations for heavy-duty trucks at two existing TA stations. This collaboration is a first step for the parties to explore the mutual development of a nationwide network of hydrogen fueling stations.
Nikola's original plan was to develop a network of about 700 hydrogen stations in the U.S. and Canada to support its Class 8 fuel cell trucks, which recently started production at their Coolidge plant in Arizona.
Last year, Congress introduced the "Hydrogen for Trucks Act" to support the adoption of heavy-duty hydrogen fuel cell vehicles and hydrogen fueling stations. This act would incentivize the adoption of heavy-duty hydrogen fuel cell vehicles by covering the cost difference between these vehicles and traditional diesel vehicles and encourage parallel deployment of vehicles and fueling stations.
The act would also provide data and benchmarks for different types of fleet operations, thereby incentivizing private investment and accelerating deployment.