Forklifts: Reaching for high standards
By Thomas Allen16 September 2019
Safety is a key priority in the design and use of forklifts, and this cannot be overlooked in the rush to automate and connect processes in material handling jobs.
Managers need to manage a mixed-experience workforce, optimise space, handle a busier working environment, respond to tighter deadlines and improve accuracy – all without compromising workforce safety.
For the first time in the UK, National Forklift Safety Day took place on 11 June 2019. In light of this, Jon Divers, Customer Service Director at Jungheinrich, commented on the issue, saying, "It is no longer enough to address risk in isolation. There is a need for organisations to take an end-to-end, holistic and business-led approach to continue to future proof operations and scale safety"
It is not just about equipment operators but also pedestrians. Research has shown that pedestrians are often the most likely to be harmed in the event of an incident.
The importance of safety is a common theme in new forklifts introduced to the market recently.
Safety highlight
Clark Europe, for instance, highlights the fact that its new range of electric four-wheeled EPX20i-32i counterbalance forklifts have three independent braking systems – electric, operating and parking brakes – to guarantee high operating safety.
The electric brake is equipped with a recovery system that feeds energy back to the battery every time the brakes are applied. This helps to extend the shift life of the vehicle by conserving power.
The standard ramp function on the new range also enables the trucks to be controlled safely and precisely on inclines.
The EPX20i-32i is the quiet, eco-friendly alternative to internal combustion models. By removing expensive gadgets that are superfluous for most applications, the cost of the units has been brought in line with internal combustion machines. And with load capacities ranging from 1.8 to 2.9 tonnes, they perform just as well too; the low-maintenance 15kW traction motor delivers power and reliability. Also, 48V three-phase technology ensures good acceleration and high top speeds.
Maintenance is kept simple, with a back cover that can be removed easily for quick access to all maintenance and wearing parts. Also, error codes make on-board diagnosis possible.
Designed in line with Clark's 'built to last' concept, the range has a fully welded compact frame and a stable steering axle, as well as robust upright and solid fork carrier construction.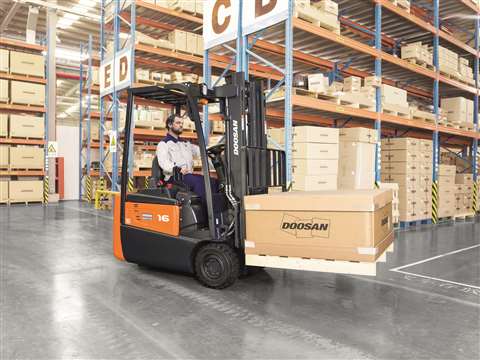 Safety is also foremost in the design of Doosan's new electric B45X-7 Series forklifts, which include features such as Anti Roll Back for preventing accidental movement of the vehicle when stopped on a slope, Automatic Speed Control that adjusts the travel speed for safer cornering, and an Operator Sensing System that immobilises the truck and locks all hydraulic functions when an operator leaves the cab.
The B45X-7 Series comprises four models covering a capacity range from 4 to 5 tonnes, and they are built for working long-shifts outdoors in wet or dusty conditions.
The company has also introduced a new electric B15R-7 three-wheeled range that includes three models with capacities from 1.25 to 1.6 tonnes. With their rugged rear-drive axle, IP65-rated Curtis controller and IP20 PAL brushless AC motors, they are designed to be durable.
As standard, the range comes with Doosan's sealed, oil-cooled disc brake system, which is virtually maintenance free and lasts up to five times longer when compared to conventional shoe brakes. The sealed units protect against outside elements such as dirt, water and grit, ensuring top-rate braking performance for enhanced safety.
Going electric
Another electric development is the new fully electric 30-19E Teletruk from JCB.
The company's Teletruk range of telescopic lift trucks was first launched in 1997, but they've always been powered by diesel or liquefied petroleum gas (LPG) – until now.
JCB's Chief Innovation Officer Tim Burnhope said, "It opens up so many new markets for us."
Almost 250,000 electric forklifts are sold around the world every year, with Europe accounting for almost two thirds of that market, so with the new electric model, JCB can tap into that demand.
Powered by an 80V lead acid battery that can work a full 8 hour shift on a single charge and is designed for quick and easy changeover, the 30-19E not only produces zero emissions but is also quiet, making it suitable for indoor use. With that said, it can still be used outdoors since its body is fully sealed and weather-proof.
Like all Teletruk models, the JCB 30-19E features a side-mounted boom and, using its telescopic forward reach, it has a lift capacity of 1,900kg at 2m.
The machine's safety is enhanced by JCB's Load Motion Control system, which alerts the operator when the truck is approaching its full lift or reach capacity.
A new range of all-terrain forklifts has also been introduced by Spanish manufacturer Ausa.
With capacities ranging from 2.5 to 3.5 tonnes, the models have an electronic management system that allows the forklifts to be put into ECO Mode, whereby the engine's revolutions per minute (rpm) are automatically regulated. It also enables SmartStop to be activated so that the engine stops when the machine is not being used. Both functions help to reduce the machine's fuel consumption and CO2 emissions.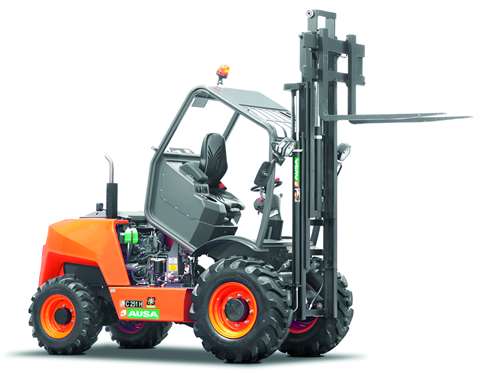 The FullGrip transmission on the new range has been redesigned to offer more efficient performance, since the 4x4 transmission can be activated from a push-button on the joystick. When the machine detects a problem in its operation, it activates the safety function, adapting the rpm to prevent any damage.
Once again, ease of maintenance is important. Ausa's new forklifts have a front-tilting cab and an upper cover on the rear counterweight, which make the machine's components more accessible.
Alternative energy sources
In light of the trend towards low emissions, Manitou recently launched its Oxygen label to illustrate the group's thinking on alternative energy sources. According to the company, it "highlights its capacity for innovation to meet tomorrow's material handling needs using green energy".
One of the machines in the new Oxygen range is the MT 625 e concept material handling truck. It has been designed to accommodate an electric engine and has specifically designed lighting.
The cabin has also been redesigned with new intuitive interfaces and natural materials such as wood.
Pointers on short-term rental
The current climate of political and economic uncertainty, combined with shorter contract periods and unpredictable spikes in demand, are making it difficult for companies to commit to long-term contracts on material handling equipment.
Used strategically, short-term rental can provide additional support to an existing fleet and it can help companies respond to surges in demand.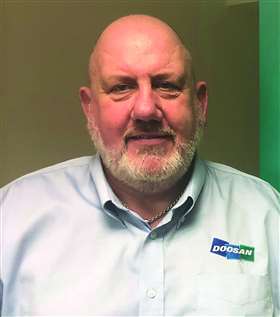 Alan Clark, Asset Manager at Doosan Industrial Vehicle UK, offers some insights into factors that determine why companies choose short-term forklift rental.
Where can short-term rental help?
"There can be many reasons why a business should want to source a forklift truck on a short-term rental basis as opposed to going for a longer-term contract typically fixed over five years with penalties for early termination," says Clark.
Unexpected events may occur, such as a breakdown in the fleet, a sudden peak in demand, or a change in product profile. But often, it's less of a surprise.
"It may be a planned special promotion, such as Black Friday, or the busy run up to Christmas, where extra capacity in the fleet is needed for a week or two, or perhaps for several months." Clark adds.
Creating flexibility
Looking ahead at planned events, companies can prepare for peak periods.
"A well-considered deployment of short-term rental vehicles gives companies the flexibility to ensure performance and responsiveness throughout the year – off-setting risk and uncertainty," says Clark.
He adds, "The good thing about short-term rental is that if circumstances change and fewer trucks are required, then they can be off-rented at short notice at minimum cost."
Safety, reliability and performance
Importantly, with a short-term rental contract the responsibility for ensuring the safety of the vehicle is on the rental company. That is not the case with a long-term contract or leasing arrangement.
"Fleet size and network coverage are important too. Within the last twelve months, Doosan has invested more than £1 million in its short-term rental fleet and by 2022 it will have in excess of 550 trucks available across its national UK network of six depots," says Clark.