Foundations construction
By Sarah Ann McCay01 July 2014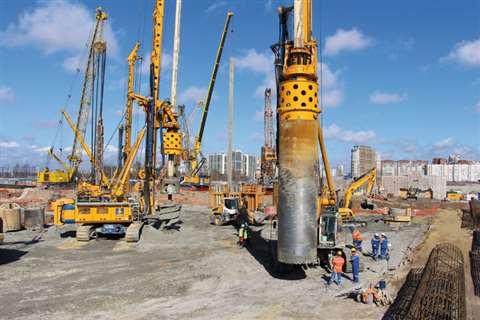 Foundations are a crucial part of any development. But choosing the right approach and the right equipment is a fine art. What a contractor wants is a good bearing on solid ground – but rarely does the ground offer up a perfectly solid platform from which to start.
Knowing the quality of what lies beneath is half the battle. Then it is down to choosing the right tools for the job.
With the whole development literally relying on it, getting the foundation wrong is a costly business. However, today's modern machinery means that foundations can be built quickly, efficiently, and most importantly, strongly.
Pile drivers
Piling rig technology is advancing, as manufacturers produce machines to install foundations deeper and faster than ever.
Finnish piling equipment company Junttan introduced three new additions to its X-Series pile driving rig family earlier this year. The new models, carrying the nickname J-reX, are the PMx26, PMx27 and PMx28, have maximum leader capacities of 20, 23 and 25 tonnes and maximum pile lengths of 24 m, 25 m and 28 m. According to the manufacturer, this makes the PMx28 the biggest and strongest complete, purpose-built pile driving machine ever built.
Junttan has redeveloped the whole basic structure and component layout of its X-Series for the PMx26-28 machines, including overhauling the hydraulic system, to make the machines more economical.
The pile drivers are also more eco friendly too. New operational efficiencies mean that the J-reX family offers reduced emissions alongside lower fuel consumption. For example, a new post-compensated and load sensing hydraulic system saves a litre per hour compared to traditional hydraulic systems. The PMx26-28 machines can also be fitted with Tier 4 certified Cummins engines to further decrease emissions.
Italian manufacturer Soilmec added three new Tier 4 drilling rigs to its catalogue earlier this year with the launch of its SR-45, SR-75 and SM-17 models.
The SR-45 and SR-75, both hydraulic drilling rigs, are designed for large diameter drilling of cased or uncased bore piles, continuous flight auger piles, cased augured piles, displacement piles and Turbojet piles.
The SR-45 and SR-75 feature an integrated re-design of the mast, rotary, kelly and parallelogram. This helps with the forward weight balance of the machine, providing enhanced stability, greater crowd and extraction force, and increased depth capability.
The SR-75 also offers a low-headroom mast for that type of drilling, while the SR-45 has bottom feed system technology for drilling in areas that are seismically active or have unstable ground conditions.
Also new to the Soilmec line-up, the SM-17 is a multipurpose drilling rig suitable for micro drilling and anchoring. The SM-17 is fitted with a double rotary mechanism, which allows casing and the drill string to be advanced independently.
Fast work
German manufacturer Liebherr has seen its new LB 44-510 rotary drilling rig go into operation on the construction of a particle accelerator in Darmstadt, Germany.
Launched at the Bauma 2013 exhibiton, the LB 44-510 is the latest development in Liebherr's range of deep foundation products. With a torque of 510 kNm, Liebherr claims it is the largest and most powerful rotary drilling rig currently in operation in Germany.
In kelly drilling applications, it is configured for drilling diameters of up to 3 m and depths of up to 92 m. The drilling rig weighs some 170 tonnes and is powered by a V8 diesel engine offering 505 kW (677 hp) and complying with the IIIB and Tier 4 Interim emissions standards.
Two LB 44-510 rotary drilling rigs are being used on the construction of the Facility for Antiproton and Ion Research (FAIR) international particle accelerator. The drilling rigs are there to stabilise the subsurface with cast-in-place drilled piles. The job will see 1400 piles, measuring between 40 m and 62 m, set in the ground.
Meanwhile, Liebherr's deep foundation equipment is being put to work in Canada, with an LRH 100 piling rig laying the foundation for a new bridge in the province of Quebec.
The piling rig was equipped with the large H 85/6 hydraulic hammer to install 120 piles with a diameter of 450 mm and total lengths of up to 36 m.
The LRH 100 is equipped with a powerful and emission-optimized 270 kW Liebherr diesel engine and can be transported in one piece with the hammer mounted. Compact in design, as the smallest model in the Liebherr range of pure piling rigs, and with a 3 m transport width, the unit can be transported quickly and cost-effectively.
Driving development
UK manufacturer BSP International Foundations has supplied a CX110 piling hammer to Moroccan contractor SGTM for work on the new high-speed rail line, linking Tangier with Casablanca.
When completed, it will be the first high-speed rail line to be constructed in Africa and will cut the journey time between the two cities from six to two hours.
The BSP CX110 hydraulic hammer is being used to drive foundation piles for a rail viaduct, which has a span of 250 m over the river Qued Sebou.
The CX110 piling hammer, supplied with a HP125 power pack, was fitted with a 9 tonne dropweight, legs, inserts and cap suitable for driving a range of Arcelor AZ sheet piles. The piles, which range in length from 22 m up to 36 m, are being used to construct coffer dams to enable construction of the viaduct support columns.
A total of six coffer dams have been built, each constructed with 28 pile pairs, which are being driven through a top layer of mud into a sand and silt base.
SGTM will now construct two other viaducts for the high-speed rail link. One of these, 'El Hachef', will have the largest span (3.5 km) of any viaduct project ever undertaken in Africa.
In Kuwait, Trevi Foundations Kuwait is carrying out piling work for a series of infrastructure projects that will upgrade transportation links across the country.
Central to the project is the construction of a major new artery, the Jamal Abdul Nasser Street, which will connect the outer and the central and commercial part of Kuwait City through 12 miles of elevated ring roads. Scheduled for completion in 2016, Trevi Foundations Kuwait is installing bored piles, with depths varying between 16 m and 30 m, and Trelicon piles ranging between 10 m and 12 m in depth.
World records
Japanese manufacturer Kobelco says it has set the world record for driving the longest prefabricated concrete foundation piles into the ground in May 2014 with its brand new 250-tonne CKE2500G PD pile driver.
The manufacturer delivered two CKE2500G crawler cranes to Huisman, which is building a 15,000 m2 quay in Navegantes, Brazil. The job requires 1,500 piles to be driven.
Dutch company Van't Hek International is in charge of foundations on the site. The CKE2500-PD is being used to drive 450 x 450 mm and 500 x 500 mm, 44 m long prefabricated concrete piles weighing up to 27 tons (24.5 tonnes).
Also looking for a place in the record book is Bauer. Its subsidiary, Saudi Bauer Foundation Contractors Ltd completed the foundations for Kingdom Tower in Jeddah at the end of 2013. Set to become the world's tallest tower, Kingdom Tower will rise 1,000 m above the ground.
In total, 270 piles were installed, some measuring 110 m. Bauer used its own BG series rigs, with the longest piles installed using two modified BG 40 rotary drills rigs, specially configured for long kellys.
The piles feed into a raft – considered to be one of the world's largest one-piece reinforced steel foundations with thickness from 4.5 m to 5 m.
The raft piling foundation uses Cathodic anti-corrosion technologies to preserve the steel reinforcement, while strain gauge instruments and load cells have been built in to detect changes in the ground. The foundations have also been installed with earthing and lightning prevention systems.
From the world's highest to Europe's highest, Bauer has also been involved in the foundation work for Gasprom's new headquarters – the Lakhta Tower – in St. Petersburg, Russia. The building will tower 460 m once completed.
OOO Bauer Technologie, Moscow was responsible for driving 264 piles to a depth of 82 m using three Bauer BG 40 drilling rigs and a BG 28 drilling rig. The work was made all the more challenging due to difficult soil conditions directly at the coastline.
Meanwhile, in Hong Kong Bauer has been involved in the construction of the world's longest bridge over water – the Pearl Delta.
The 50 km Pearl Delta Bridge will connect Hong Kong, Macao and Zhuhai. Local foundation subsidiary Bauer Hong Kong has been contracted for the installation of offshore bored piles for the Hong Kong Link Road (HKLR) – a 10 km long section running from the border with China to Hong Kong international airport. Piles measuring 2.3 m and 2.5 m in diameter and up to 115 m long will be installed in rock.
The drilling work must be performed at sea, with Bauer commissioning five BG 40 rotary drilling rigs for the job. Four of the rigs have been custom-built for the project and feature longer masts and larger main winches than usual.
The foundation works have also required the use of ships for each of the rigs, while floating pontoons have been used for four bentonite plants and for 300 tonne duty cycle cranes and accessories. More than 100 drilling tools have been assembled at the construction site. Work is scheduled for completion in December 2014.
Strong foundations are the backbone of the construction industry. New technologies are helping to pave the way for faster, safer and more stable construction in the future.