Foundations go lightweight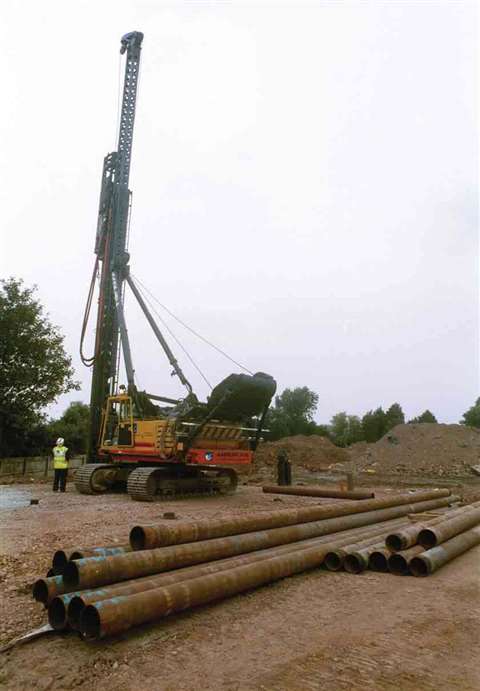 Expansion Of The European Union (EU) last year is helping to boost the foundations market as new member countries start to make use of EU funding now available to them. This surge in construction activity in Eastern Europe is also helping to counteract the slow down currently being experienced in some more developed European nations.
The changing market is also creating a demand for new piling equipment in Europe, particularly for smaller, more mobile rigs to cope with transportation weight restrictions. Ease of transportation between sites is the main reason why most of the major piling equipment manufacturers have added a compact rig or hammer to their ranges this year. But the smaller size also makes the equipment easier to use and manoeuvre on site. And, if current order books are anything to go by, it is a concept which seems to be proving popular with foundation contractors.
Junttan's new PML 20 rig is a lighter weight version of its well established PM 20 rig, with a reduced upper carriage turning radius, but the company claims the new version is more efficient.
"The compact dimensions of the rig mean that it can be moved easily from one place to another in one piece without any special arrangements. This can save a lot of money, time and trouble for piling contractors," said Junttan managing director Juha Heinonen.
One PML 20 has already been sold in Europe and another is on order but three have been delivered to the US. The PML 20, along with another new Junttan drilling rig – the DX 25 – will be on display on the company's stand at ConExpo in Las Vegas this month.
Last month saw the launch of the F2800 piling rig from IHC Fundex, a smaller version of its versatile F3500 machine, and the first unit has already been sold to a Swiss customer. The new rig has a maximum leader length of 31 m – 9 m less than the F3500 – and can be reduced to 21 m for low headroom sites and compacts down to 18 m for transportation. The machine can be adapted to carry out a variety of piling techniques and comes with a range of engine options, which enable the rig to carry out heavy piling work despite its small size.
Bauer's entry into the lightweight market comes in the form of the MG 15, a newly designed rig for installing displacement piles up to 400 mm in diameter. According to the manufacturer, the MG 15 was originally designed for the Japanese foundations market but a number of European contractors have already expressed interest in it.
The machine, which has a telescopic leader, is designed to be light and easy to transport and also features Bauer's 'Super-soundproofing' system to keep noise levels to a minimum. Bauer will officially launch full details of the MG 15, along with the rest of its latest developments, at ConExpo.
Several new lighter weight hammers have also been launched in recent months. IHC Hydrohammer's S-30 Hydrohammer weighs in at 3,8 tonnes and is the smallest hammer in the company's product range. The high velocity ram hammer is designed to drive both single and double sheet piles, as well as tubular steel piles, and can also be used to extract cast in-situ pile casings.
Like the rest of IHC's Hydrohammer range, the S-30 can be attached to a leader or used with an excavator in a free hanging position and operated underwater. The prototype of the S-30 was displayed at Bauma last year and, following further development, the first units are now being assembled at IHC's factory in The Netherlands. The S-30 will soon be available with a lightweight rock breaking attachment.
International Construction Equipment (ICE) has just completed the final field trials of a new lightweight vibratory hammer and has already sold four units to customers who were on site to witness the testing. ICE sales manager Tom Schröder said, "The 8RFSH hammer features a new swivel head, which is stronger, lighter and smaller and eases handling, speeding up work on site. Our site trials have found that the swivel headed hammer is up to +30% more productive than conventional fixed head hammers."
This flurry of new equipment launches in recent months suggests that the European foundations market is thriving. But several manufacturers have said that countries which have been a hot bed of activity over the last few years have become more static. "Holland and Germany are quiet at the moment, although there is lots of work underway in Spain, Scandinavia and the UK," said Junttan marketing manager Ari Kuikka.
PTC is also experiencing a lull in work in Germany but marketing director Michel Eeckeleers said that environmental protection work in Venice and other contracts in Eastern Europe are helping to keep the market buoyant. Czech Republic based contractor Prezipp is currently using a PTC 30HFV Vibrodriver to drive casings for the foundations of a new library in the Czech city of Hradec Kárlové. Mr Eeckeleers said, "Prezipp is using a conventional technique to construct the concrete cast in-situ piles. But the use of a Vibrodriver is helping to keep noise and vibration generated by the work down to a minimal level." According to Mr Eeckeleers, minimising noise and vibration levels caused by piling is a prime concern for foundations contractors throughout Europe.
Bauer is also active in Eastern Europe and has just constructed Bulgaria's first secant piled wall in Sofia as part of a foundations contract for a new shopping complex. The new 3500 m2 Mall of Sofia centre will include three levels of underground parking. Bauer constructed the secant piled wall to enable the basement area to be excavated through the underlying clays which overlay groundwater under artesian pressure. Bauer also installed 11700 m of temporary grout anchors in two layers and carried out dewatering work around the site.
"Eastern Europe is one of the few regions in Europe where the foundations market is growing at the moment. Bulgaria and Romania are particularly busy and work levels in this part of Europe are likely to continue expanding over the next few years," said Bauer managing director Teschemacher Teter. "We are also experiencing some growth in the Spanish and Irish foundations market and Switzerland's current infrastructure investment is helping to boost our order book. Work levels in Germany are very low at the moment because the country's government has little money to spend."