Foundations: the latest techniques and machines
By Becca Wilkins12 May 2008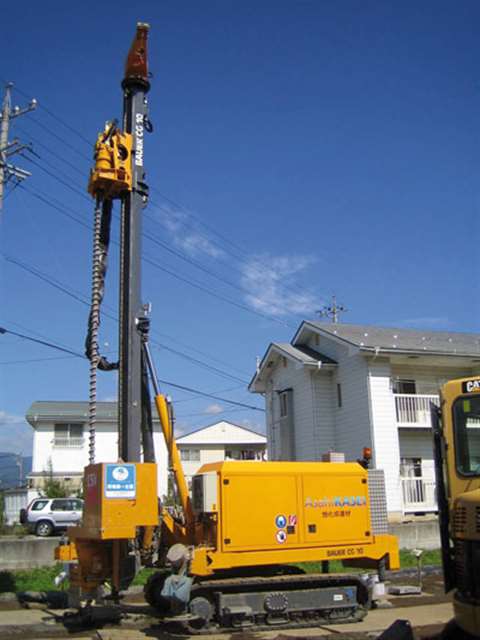 The foundations sector is a specialist area but it is vital to the construction industry. The latest equipment and techniques allow for the construction of new and ever-more complicated projects to take place around the globe. Becca Wilkins reports.
Foundation techniques are fast becoming more technologically sophisticated allowing for improved productivity while working in difficult ground conditions and under increasing time pressures.
Equipment from Soilmec is being used in Thailand to install barrette piling on a riverside housing project where ground conditions are "especially soft and silty," according to the company. Contractor, Italthai Trevi, is using two Soilmec BH12 hydraulic grabs to excavate 70 m deep at Bangkok's Chao Phraya River as the ground is prepared for the construction of what will be one of the city's tallest towers, the company said. According to Soilmec, foundation work in Bangkok normally takes the form of driven or bored piling because of soft soil conditions in the city.
Techniques and trends
The project in Thailand is the first to use barrette piling to such depth, according to Italthai Trevi managing director, Franco Martini. He said, "This system is likely to be increasingly used to replace conventional bored piles, as the rectangular shape of the barrette increases the vertical and horizontal pile load capacity. Further, in the case of limited construction space, as on The River project, the shape of the barrette pile allows more flexibility in foundation design."
Meanwhile, using hydraulic hammers for pile driving is now commonplace in the foundations sector according to managing director of BSP International, David Redhead. However, he added, the trend now is to use bigger hammers and bigger piles. He said hydraulic hammers have become popular in the industry except in the US where a lot of diesel hammers are still being used.
"An advantage of a hydraulic hammer is that you have complete control over what happens so you can accurately control the blow rate and the stroke," he added.
One of the most important and recent developments for Bauer, according to Christian Gress, executive director for the company, is the cutter soil mixing method.
"This is where we apply the existing technology of excavating a trench for cut off walls or structural walls and combine it with the idea of mixing the existing soil. It's a technology using our slurry wall cutter and combing it with the soil mixing method," he said. He added the cutter soil mixing system, which the company is very actively promoting, is unique to Bauer and since it was launched the company has introduced it to markets including Japan, the Benelux countries, the US and Italy. "This is a method that has caught on relatively quickly," he said.
Other developments from Bauer include enhancing the displacement piling method and redesigning the double rotary head drilling method where a torque converter is now used instead of the second rotary head, which, according to Mr Gress is revolutionary and will require "a lot less installation on the rig."
Market
According to Mr Redhead the market for pile driving is currently buoyant across the globe. "I think everybody who is manufacturing hydraulic hammers is very busy at the moment and has got full order books. Whereas a few years ago you used to say you were very strong in a particular territory, today the equipment is delivered all over the world and even places like Africa and South America are becoming common now - a few years ago we would be a little surprised to get those orders - they were a bit specialist." He added the traditional markets like Europe and the US are 'holding up' and Russia and China are also busy.
"This is a very specialised industry and orders can be unpredictable, for example, we sold a large hammer to Angola which came completely out of nowhere and we had a guy approach us because he wanted a compactor on a dam in Sudan and they actually flew it there (20 tonnes of metal) by plane," Mr Redhead said.
Mr Gress said the world market in general is also healthy for Bauer but particularly good growth opportunities lie in developing markets like India and the Middle East.
Investments
Positive market conditions have led manufacturers to invest in new foundations equipment. With broader product portfolios the aim of some companies is to gain a stronger position within the sector.
Liebherr has introduced the LB Series - a new range of pure rotary drilling rigs, the first of which, the LB28 was launched at Bauma in 2007. There are four other machines in the range including the LB15, LB20, the LB24 - which is due to be launched this year and the LB36. The whole range will be available in the next two to three years.
Speaking to iC, Wolfgang Pfister, head of marketing for Liebherr-Werk Nenzing, said, "We have been offering foundation machines for quite a few years already but so far we have had a range of combined piling and drilling rigs - or universal machines. But we have realised that very often the market is only looking for drilling machines and so the existing piling and drilling machines were too much. That's why we have developed a new range of pure drilling rigs."
He added the new LB series complements the existing combined piling and drilling rigs (the LRB Series).
"With the new series we have completely new basic carriers that have been developed especially for the drilling rig market so its not that we take an existing hydraulic excavator and adapt it for a drilling rig - it's a completely new machine especially developed for this market and that's why the series is unique," Mr Pfister said.
The new machines are a result of market demand as existing customers are now looking for more specialised solutions, according to Liebherr. The LB series is designed for Kelly drilling, continuous flight auger drilling and double rotary drilling as well as for soil mixing.
The new products will be sold mainly in Europe, but the Middle East is becoming strong as well as Russia and the US, Mr Pfister said. He added although the Far East is not yet showing interest, this region is likely to develop in future.
BSP International's dynamic compaction method, or 'rapid impact compaction' (RIC) is growing in popularity, despite the company's initial concerns about market acceptance of this relatively new method. "Getting the RIC started in the market could be seen as quite difficult and having done that is quite unique," Mr Redhead said.
The RIC is a piling hammer that compacts the virgin soil, which in turn increases its load bearing capacity, according to the company.
"There is a limit with the dynamic compaction method because of the type of soil that is suitable for it - usually it is only granular and non-cohesive soils," Mr Redhead added.
The market for the RIC is growing he said, but so too is the hydraulic hammer market, "because it is in direct proportion to the volume of work that is around."
Meanwhile, The introduction of a line of foundation cranes, which will complete Bauer's product offering for the foundation industry, is a major development for the company, Mr Gress said.
Environment
The environment is the biggest challenge for the foundations sector, according to BSP International. "But a lot of work takes place off-shore or not in an area where there is an environmentally sensitive issue," Mr Redhead said.
He added, "A piling hammer will make quite a bit of noise and one of the trends is moving towards keeping hammers quiet. This is something that everyone is very much attacking."
Mr Redhead said the easiest way to reduce noise on a hammer is to put a shroud around it but the size of it can reduce visibility.
"Although on the face of it piling hammers are noisy and they have an environmental problem there are environmental issues with drilling rigs as well," he added. Methods such as using pile-pushing devices can be used to help overcome this, although these have limitations. "However, in the right soil conditions a pile pusher is a good tool as it is very environmentally friendly because there's no noise as it's just pushing the soil... "But basically this is an industry which does have an environmental problem and it's very difficult to see how it can be solved," Mr Redhead said.
Outlook
The global foundations industry is strong in the traditional markets according to manufacturers and demand for specialist equipment will continue to grow as infrastructure projects and construction in general increases in the emerging territories.
Mr Gress said, productivity, safety and operator comfort have always been important product drivers for the foundations sector but infrastructure, energy related projects as well as the environment are currently driving the industry forward.