Fraco debuts FMC-3 platform
By Lindsey Anderson12 February 2018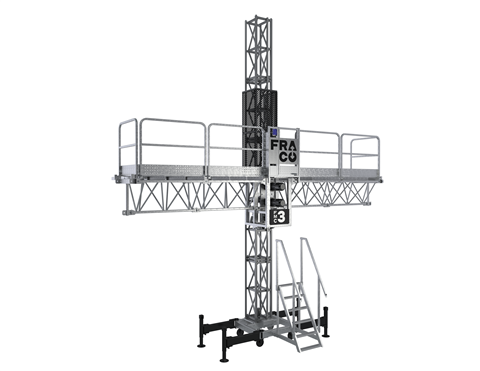 Fraco debuted a brand-new rack and pinion work platform during World of Concrete. The FMC-3 was developed to meet the demands of construction contractors and others in the industry who use heavy equipment.
"The FMC-3 platform is for building contractors who want flexible work equipment with medium load capacity. It has been designed so that it can be mobilized quickly with a minimum of resources," said Jacques Lainé, marketing director at Fraco. "In addition to offering a maximum payload of 1,100 kg, the FMC-3 allows a lift of 7.5 meters per minute."
The FMC-3 was designed by the Fraco technical team in collaboration with its European partners who have been using this type of platform for several years.
"We took inspiration from some of the work platforms already available in Europe and developed a version that also meets North American requirements and specifications," said Anthony Grégoire, director of innovation at Fraco. "From the start, we wanted to offer users a product that meets Fraco standards and quality. The FMC-3 will therefore be proposed with an electric motor or gasoline engine. It also has floor extensions integrated into the extensions that enlarge the work surface; planks are not necessary."
According to Lainé, the FMC-3 platform will be available to dealers and distrbutors soon.