FRD rips into demolition with new concept
By Lindsay Gale08 February 2010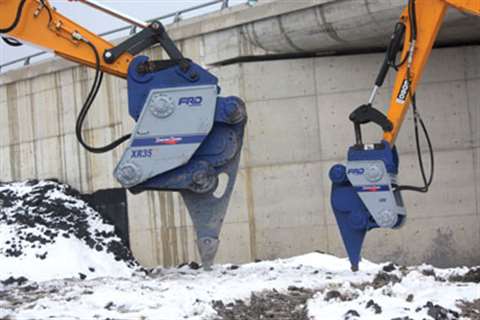 One highlight at bauma for those looking for alternatives to traditional hydraulic breakers will be seen on the FRD Europe stand, where the company will be showing its XCENTRIC Ripper attachment range. Developed in conjunction with Spain-based Grado Caro, this new attachment type is claimed to offer substantial improvements in productivity - FRD says that the new attachment has been developed with a patented reaction power accumulation technology that in 85% of applications makes the Ripper more productive. FRD claims that in 50% of applications, the Ripper is twice to four times as productive as a breaker. The attachment is said to carry out work in less time, at a lower cost and with a minimum of noise.
The XCENTRIC Ripper will be available in a wide range of models, with 10 different sizes for 2 to 85 tonne excavators. Three models will be introduced at Bauma, the 700 kg 91,540 lb) XR6 for carriers weighing from 7 to 10 tonnes, the 1,600 kg (3,520 lb) tonne XR25 for 18 to 25 tonne carriers and the 4,000 kg (8,800 lb) XR 35 for 32 to 38 tonne machines.
Also new from the company is its FX-series mini excavator breakers with a newly designed Mono Bloc Cylinder without through bolts, easy exchangeable wear parts and more power at lower noise levels. The five FX series hydraulic breakers, The FX15, the FX25, FX35 FX45 and FX55, have operating weights of between 66 to 300 kg, and are designated for mini excavators from 0.5 to 7 tonnes.