French excavator sales grow
By Sandy Guthrie23 March 2018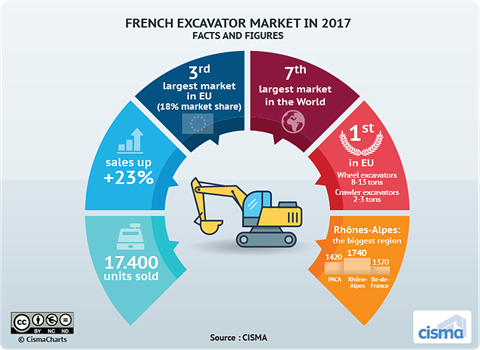 France is Europe's third biggest market for excavators – both wheeled and crawler ­– with 18% market share and 17,400 units sold last year, according to figures from CISMA (the French association of manufacturers of construction equipment and material handling technology).
It said that France was the seventh largest market in the world for excavators. With wheeled excavator sales of 1,740 units sold in 2017, France is ranked third in the world behind South Korea (4,300 units) and Germany (2,800 units).
The overall French Excavator market rose by 23% in 2017, said CISMA, one of the highest rates of growth in Western Europe. It said wheeled models had increased by 31%, and mini excavators by 24%. Sales of crawler excavators were up 16%.
The region of Rhône-Alpes represented 10% of the total market, CISMA found. It was the biggest region in terms of units sold (1740 units) immediately followed by the Provence-Alpes-Côte d'Azur region, with 8.1% of the total market. The Ile-de-France region (Paris and its suburbs) was ranked third, with 1,370 excavators sold last year. It represented 7.8% of the market.
With sales of crawler excavators, the segment between 2 and 3 tonnes was the most important last year and was 31% of the total French market. France holds the first position in Europe for this segment.
The French wheeled excavator market between 8 and 13 tonnes represented 38% of the total market.