French government plans Positive Energy initiative
By Joe Malone28 January 2016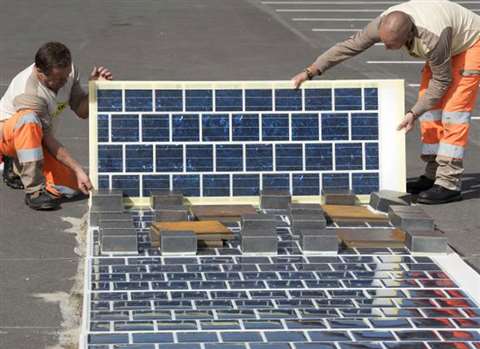 The French government has laid down plans to pave 1,000km of road with photovoltaic solar panels in the next five years, according to Ségolène Royal, France's minister of ecology and energy.
Royal was present at a conference of transport authorities, and said that the tenders for the "Positive Energy" initiative had already been issued and the tests on the panels would begin in the spring.
It requires only 4m of solarised road to supply one household's electricity needs, apart from heating, while 1km will light a district housing 5,000 people, according to France's Agency of Environment and Energy Management
The maximum effect of the programme, if successful, could be to furnish five million people with electricity – around 8% of the French population.
The solar panelling of France's roads involves gluing 7mm-thick strips to the surface of the carriageway. The basic technology for this has already been developed by Bouygues' subsidiary, Colas. The company's Wattway panels, which took five years to develop, were launched in October.
Wattway cells collect solar energy using a thin film of polycrystalline silicon, but are resistant to the passage of heavy goods vehicles and offer sufficient traction to prevent skids.
Royal admitted that raising taxes on petrol – which she said was "natural" given the falling cost of oil – will pay for improvements in France's transport infrastructure. She said that this could contribute between €200 and €300 million.