French growth for mini excavators
By Sandy Guthrie16 February 2018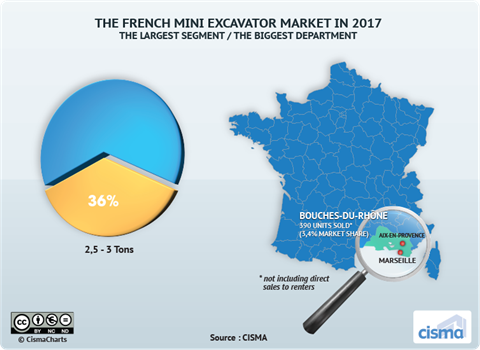 The French mini excavator market grew by 24% in 2017 and, as in 2016, the most important segment was the 2.5 to 3 tonne models, according to figures from CISMA (the French association of manufacturers of construction equipment and material handling technology).
It also found that the region of Bouches-du-Rhône remained the biggest department in terms of units sold.
CISMA found that the market share of crawler excavators from 6 to 12 tonnes was stagnating between 6 and 8%, while the French mini crawler excavators market was doing well.
Mini excavators account for 68% of the total compact equipment market, it said. With 11,574 machines sold in 2017, the French market almost reached its historical peak of 2007, when the figure was 11,676 units.
According to CISMA, these good results were thanks to the rental sector, which was up 34% in 2017 compared to 2016, while the performance was also said to be a result of a rise of 20% attributed to other buyers.
With 4,150 units sold in 2017, the 2.5 to 3 tonne sector accounted for 36% of the total mini excavator market. This segment increased by 22% last year.
Compared to 2016, the market share remained virtually unchanged, but CISMA said that it had to be said that the weight of this segment had been increasing since the crisis. It was 32% in 2010. Since then, the market share of this specific segment has grown for half of the 95 French departments, it said.
The department of Bouches-du-Rhône in the south east of the country accounted for 3.4% of the total mini excavator market, followed by the department of Rhône, situated around the city of Lyon, at 2.9%.
CISMA added that while Bouches-du-Rhône was the biggest department in terms of volume sold last year, it was not the most dynamic. In a growing market, the Bouches-du-Rhône department decreased slightly with a fall of 1.5%.