French roadbuilding boom
By Sandy Guthrie21 March 2019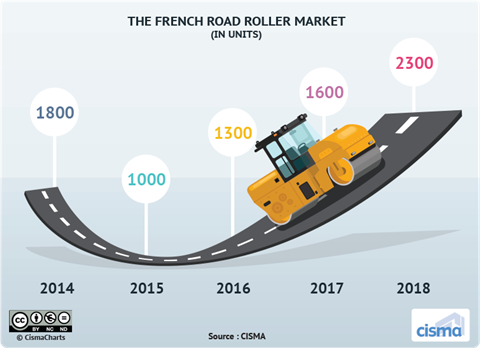 Sales of road construction equipment in France are close to the highs of before the financial crash, according to CISMA (the French association of equipment manufacturers of construction, infrastructure, steel and handling equipment industries).
It said that 2018 sales levels for the road construction equipment industry were close to pre-crisis figures, and that the whole road construction equipment and maintenance industry was benefiting from a good market orientation and investments from local authorities.
It gave fleet renewal of road milling machines as an example, saying they remained at a high level in 2018. Similarly, sales of pavers passed 200 units last year.
The French road roller market has increased for three years, it said, with the market up 37% in 2018. The growth rate was also strong in 2016 with a rise of 31%, and it was up 22% in 2017. The market exceeded 2,000 units.
CISMA said sales were supported by distribution networks, but that the road roller market was also a rental market, with renters described as "very active" in 2018.
It was forecast that the market should remain dynamic, with civil engineering activity increasing again by 3% in 2019 thanks to the dynamism of investments by local authorities and major operators.