Friderici invests in Goldhofer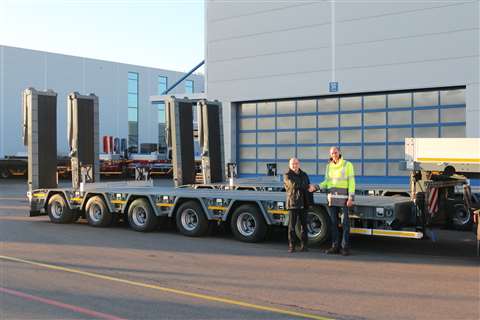 A pair of new Goldhofer trailers has joined the fleet of Swiss transport specialist Friderici Spécial. They are MPA 6 semi low loaders and a typical application is moving heavy construction equipment.
MPA axle technology was introduced in 2013. The six-axle version can carry 76 tonnes and the maximum is 12 tonnes on each axle. Its extendible deck allows carriage of a wider range of cargo. Its two piece ramp allows quick loading and unloading.
André Friderici, technical director, commented, "After the first few jobs I got a lot of positive feedback from our transport crews. The drivers are delighted with the MacPherson axle with the 60 degree steering angle, which means significantly improved manoeuvrability with auxiliary steering. With regard to the economics, we are particularly happy with the low maintenance requirements of the MPA 6. Reducing the steering axle system to so few parts means less wear and very impressive long-term availability."
Friderici was started in the 1880s and remains a family owned and run business. It has locations in Tolochenaz, Vernier and Neuchâtel. Since buying its first Goldhofer in 1976 the fleet has grown to include 30 low loader semitrailers with accessories in the STZ, SPZ and MPA series from the German manufacturer.