Fuels' burning divisions
By Sandy Guthrie03 April 2018
Differing views on the fuels of the future were displayed at a recent conference in London, UK, as a representative of Perkins told delegates that off-highway construction machines would continue to be diesel powered "for some time", while Volvo Construction Equipment (CE) backed electrification, saying the diesel was "the main problem".
The UK's CEA (Construction Equipment Association) Annual Conference ran under the title Innovation is Here, and was attended by more than 190 delegates from the construction equipment sector.
It explored digitisation, future fuels, the importance of Big Data, robotics and augmented reality training.
The CEA's first Honorary President, JCB's David Bell, opened the conference, saying, "Everything is changing, and everything is up for grabs. We need to be effective and efficient in all we do."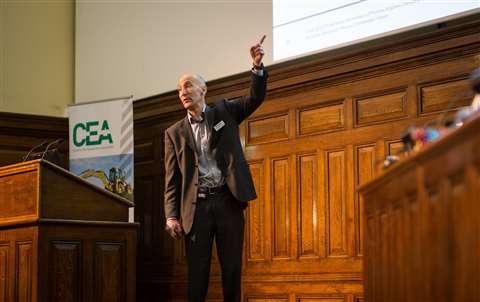 Duncan Riding, senior technical steward, Perkins Engines, spoke about fuels of the future, saying, "Our entire society is based on energy. By 2100 there will be 11 billion people worldwide – all consumers of energy."
Riding said that diesel was not the demon fuel it was made out to be. He pointed out that the advances in filtration efficiency in engine systems, such as SCR (selective catalytic reduction) technology, which included the addition of DPF (diesel particulate filters) and AdBlue, meant that emissions from these technologically advanced engines were at an all-time low.
Riding also said that battery engine technology needed to catch up, adding that off-highway construction machines were very different to cars. He said battery-powered scissor lifts and forklifts had been around for some years, and more recently fully-electric excavators, but he said a zero-emission machine still needed a high flow of energy.
A 22kw charger was equivalent to using 40 x 13amp plugs, he said, suggesting that clean diesel was the answer for larger machines, and not electricity.
Energy efficiency
Later on in the conference, Jenny Elfsberg, director of emerging technologies at Volvo CE, spoke about how energy efficiency in the construction sector can potentially be improved by a factor of ten, and how this cannot be solely achieved at machine level.
She said, "We have to zoom out our approach and look at intelligent machines, electrification and site solutions where connectivity is included."
As part of this programme, Volvo CE has been working with contractor Skanska and the Swedish Energy Agency on the electrification of a working quarry site. Volvo looked at a complete site with a customer and discovered it was not a case of replacing one machine with another – one process had to be replaced with another process.
Elfsberg talked about technologies that would disrupt the world and included automation, electromobility and connectivity. Also, globally, labour-productivity lagged behind manufacturing and the total economy, she said, adding that this was why she believed that electrification mattered for site efficiency and productivity – as well as building a sustainable future.
Elfsberg discussed how the automation of machines would create real-life benefits for society in terms of productivity, safety, energy and fuel efficiency.
"We are working on making machines more reliable," she said. "Fully-electric brings fewer break downs and quicker repairs.
"Machines will never be as complex as they are now. We're not making them more complicated," she said, adding, "Diesel engines are the main problem – get rid of them."
Factory of the future
Professor Rab Scott, head of digital at AMRC (the Advanced Manufacturing Research Centre) with aircraft manufacturer Boeing talked about the factory of the future, and the challenges and opportunities for the construction sector.
He highlighted the five key technologies which were drivers behind the 4th Industrial Revolution – additive manufacturing (3D printing); virtual and augmented reality; robotics and automation; machine learning and artificial intelligence; data, connectivity and the industrial Internet of Things.
Scott explained that 3D printing, and training people to use this technology, was the future of construction. He said robots would be an integral part of the factory of the future, with collaborative robots alongside workers.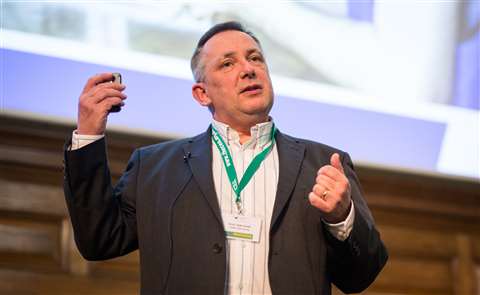 While he said that robots could perform repetitive or dextrous tasks in hazardous environments, there was a misconception that robots were taking people's jobs. He said 800,000 jobs had been lost to automation, but 3.5 million jobs had been created.
With the Internet of Things – the interconnected manufacturing environment – he said that data analysis played a crucial role. He said analysing data from now and the past provided the tools to predict the future.
Scott went on to describe how Virtual Reality training was playing a key role in the future of the industry. The gamification of training was enticing new blood into the world of engineering, he said.
Augmented reality
UK Plant Operators' Mark Kennedy and Dale Hawkins spoke about augmented reality training, talking to the audience from an operators' perspective and explaining how machines used on modern construction sites needed skilled operators.
With construction machines becoming more and more sophisticated, operators need to be coached on how to use these advanced technologies safely and efficiently. Kennedy and Hawkins said they believed that using machine simulators was the way forward – not only to train and upskill existing workers in new machine technology, but also to attract the interest of new young plant operators.