Galmon opens state-of-the-art training centre
By Euan Youdale24 May 2015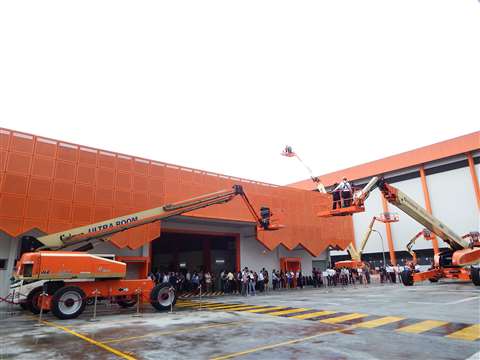 Galmon has opened a state of the art training centre for aerial work platforms and mobile towers.
As Singapore's biggest AWP rental company, with a fleet of more than 3000 machines, Galmon now wishes to lead the way for training throughout the region and encourage others to follow its example.
The 6700 square metre, two-storey facility, the first of its kind in Asia, has 11 air-conditioned classrooms and an auditorium with room for 300 people. There is also a large outdoor training area.
Galmon has long-established training courses accredited by the Singapore Ministry of Manpower and opened its training academy in 2011. With this new facility it has introduced International Powered Access Federation (IPAF) operator and MEWPS for Managers courses, as well as Towers for Users and Towers for Managers courses from mobile aluminium mobile tower association PASMA. In addition Galmon is working with JLG, which supplies a vast majority of its AWP fleet, to introduce the manufacturer's eLearning platform to Singapore.
Falls from height remain a major cause of workplace fatalities in Singapore. A 2014 report by the Workplace Safety and Health (WSH) institute revealed they accounted for 17% of fatalities at work and 13% of major accidents.
Speaking at the event Hawazi Daipi, senior parliamentary secretory for manpower and education, said, "Earlier this year the Ministry of Manpower initiated an enforcement operation targeting work at height and lifting operations at construction sites. Of the 214 worksites inspected, 191 were found to have violated WSH rules. This shows more can be done to increase WSH standards in the workplace. Enforcement alone cannot be the solution. Employers and employees can and must play their part."
Recently, the ministry launched its Vision Cero initiative to encourage the view that all injuries at work are preventable.
Mr Daipi added, "If we have this mindset then the use of MEWPs, instead of ladders and scaffold to undertake work at height is an obvious choice. First, MEWPs enhance productivity and are quicker to deploy. Second, and more importantly, they are safer to use as they remove the risks of climbing."
Tim Whiteman, IPAF managing director and CEO, and Don Aers, PASMA technical director, were at the event, both signing a document demonstrating their commitment to the partnership.
Frank Nerenhausen, president of JLG industries, was also present to assist in the official opening. He said, "Galmon is a benchmark company for the industry. Companies like Galmon are incredibly important to ensure health and safety is advanced - productivity and safety augment one another," but he added, "there are still thousands of accidents every year and we must challenge ourselves to find more innovative ways to make the industry safer."
Desmond Ong, Galmon's founder and CEO, described how the company started in 1982 with a small fleet of machines. "Back then all work at height activities were done largely with the use of unsafe wooden or steel scaffolding, ladders or other makeshift equipment."
The company pioneered the use of AWPs in Singapore and was the first to introduce the equipment to the film, manufacturing and shipbuilding industries, and has become the biggest distributor in Asia outside of Japan.
Speaking about the new training centre, he added, "For Galmon this is a very big step. We are doing more than just expanding on our work at height courses and enhancing our training."
In the immediate future Galmon will be partnering with safety associations such as the Singapore Institution of Safety Officers, IPAF, the Access and Scaffold Industry Association and PASMA to hold safety forums with industry stakeholders at its facilities.