GAM gets big European loan
By Belinda Smart01 December 2022
Spain's GAM has secured a €35 million loan from the European Investment Bank (EIB) to invest in electric equipment, sustainability and digital training initiatives.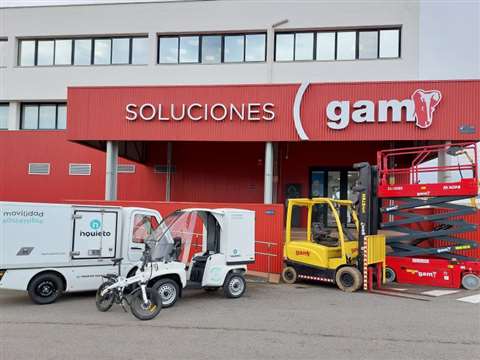 EIB said GAM will use the funding to increase its investments in energy-efficient equipment and electric vehicles to replace existing units with a high carbon footprint. 
It will also expand the zero-emissions fleet of  its subsidiary Inquieto, which owns 1500 electric vehicles in Spain and Portugal, used for 'last mile' deliveries in urban centres. 
The investment in Inquieto follows GAM's announcement in August that finance company De Lage Landen (DLL) had taken a 20% stake in the Inquieto business. 
Part of the funding will also be used to digitalise vocational training provided through Kirleo, GAM's training operation.
EIB said the funding could create 68 full-time jobs.
GAM Chief Financial Officer Antonio Trelles said the loan would diversify the company's sources of funding "and will help us expedite our plans to minimise GAM's CO2 emissions, one of our strategic priorities.
"We greatly appreciate the EIB's faith in our company, which will enable us to pursue our digitalisation strategy and, of course, enhance our commitment to sustainability and to society."
EIB Vice-President Ricardo Mourinho Félix said the loan would contribute to the energy transition by promoting the development of a decarbonised circular economy.
"With the support of the European Fund for Strategic Investments (EFSI), our financing will help to replace equipment with electric and low-carbon motors more quickly.
"This will not only drive sustainable mobility in Spain, but will also help to digitalise the sector and create jobs."
This is the first financing agreement between the EIB and GAM, and is supported by the European Fund for Strategic Investments (EFSI), the main pillar of the Investment Plan for Europe. The fund provides guarantees that allow the EIB to invest in higher risk projects. 
The Investment Plan for Europe has been replaced by the new InvestEU programme, although a number of previously approved operations can still be signed.
According to the EU's InvestEU website, the programme is designed to support sustainable investment, innovation and job creation in Europe. It aims to trigger more than €372 billion in additional investment between 2021 and 2027.