Garic units support Coleman
By Leila Steed26 April 2019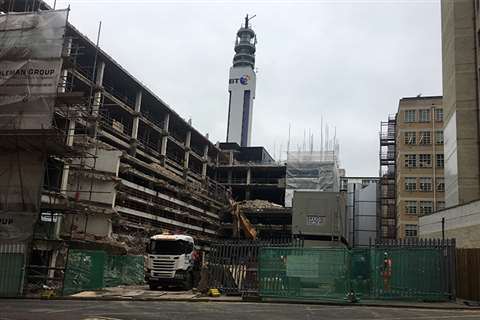 Welfare and site equipment provider Garic has been contracted to supply a specialist welfare solution for part of a city centre demolition project in Birmingham, United Kingdom.
Demolition firm Coleman & Company is scheduled to take down a 10-storey former Royal Mail building for a local property developer, in preparation for a new 14-storey apartment block.
The building is located adjacent to one of the city's busiest streets, in close proximity to a large shopping and office development. Demolition of the structure is expected to take 40 weeks to complete and requires specialist welfare facilities.
Sophie Rolfe, Garic's regional account manager said: "Because the site is restricted Coleman needed comprehensive but integrated welfare facilities. Our combi cabins are ideal because they have canteens, offices, toilets and drying rooms all in one unit. They're designed to be completely self-contained so Coleman doesn't need to connect water and power supplies.
"There are university buildings, offices and residential properties surrounding the site so keeping disruption to a minimum is also very important. These welfare units might seem compact but they offer really quite extensive features such as fresh water, waste and fuel tanks, flushing toilets, urinals, hot and cold water, hand dryers, heating, lighting and power generators whilst being quiet and highly eco-efficient."
Manufactured in the United Kingdom, Garic's combi cabin series site welfare units can seat up to eight staff and have anti-vandal features such as five-point deadlocking systems. The company also offers drying rooms with thermostatically controlled solar-powered, blown air heating system, which is designed to help customer save up to 86% in energy costs.