Gautam sees Indian potential
By Chris Sleight03 December 2009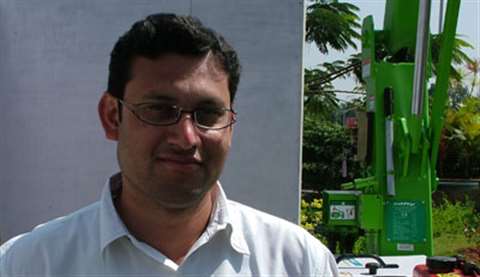 Mumbai-based powered access renter Gautam plans to expand its modest fleet to cater for growing demand in India.
The company has already had success renting platforms with operators to high-profile infrastructure projects - most notably the new airport in Delhi - and sees potential in infrastructure construction, non-residential building and industrial applications.
The company's fleet currently comprises 40 platforms, a mix of Niftylift booms, Skyjack scissors and Scanclimber mastclimbers. However, according to company spokesman Malay Shah, the fleet is "100% utilised."
According to Mr Shah, the lack of familiarity with powered access in India is proving to be something of a hurdle, because finance houses don't have experience of the sector. "We want to add to our fleet, but we will need to get finance for it. It will take probably four to five months more," he said.
Although it has historically worked out of a single office in Mumbai, the company offers platforms to rent across India, and it also has plans to expand its network in the near future. Mr Shah said, "We have now opened an office and service centre in Delhi. The next will be in Bangalore."
The standard practice in any type of equipment rental in India is to send machines out with a trained operator.
"We train operators so they can do the maintenance too. We are also a member of IPAF," said Mr Shah. The company is also making further investments in training and safety.
"We are planning a training centre in Mumbai and we are also translating all the machines' manuals into Hindi," continued Mr Shah.
According to Mr Shah, the company's success to date has been on major projects, often where there have been international engineers, architects or contractors involved, stipulating a higher level of on-site safety.
One of its most notable successes has been Delhi Airport, where the company had 16 of its 40-platform fleet on site, and this project also had the added impetus of a deadline linked to the 2010 Commonwealth Games.