GB construction continues recovery
By Thomas Allen11 October 2018
Figures recently released by the Office for National Statistics (ONS) show that construction output in Great Britain increased in August.
The 2.9% rise over the three months to August continues the recovery that has followed a relatively weak start to the year.
The three-month on three-month growth in August was said to have been driven by repair and maintenance, which increased by 2.8%, as well as all new work, which was up 2.9%.
On a monthly basis, construction output declined by 0.7% between July and August, driven by falls in repair and maintenance, which dropped by 0.6%, and all new work, which decreased by 0.8%. Figure 2 shows that since the beginning of 2015, new work, and repair and maintenance have followed a broadly similar pattern. Both repair and maintenance, and new work have risen steadily.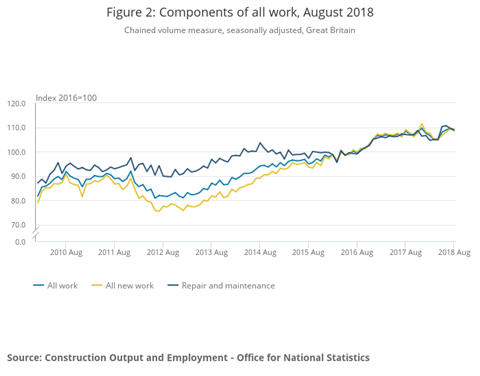 Construction output increased by £1.156 billion (€1.322 billion) in the three months to August 2018. The most notable contribution to that growth came from private housing new work, which increased by £422 million (€482.66 million) over the period.
Other notable three-month on three-month growth came from non-housing repair, which increased by £262 million(€299.66 million), and maintenance and infrastructure, which was up £232 million (€265.33 million).
The only sectors to provide downward pressure on output in the three months to August came from private commercial new work, which decreased by £45 million (€51.46 million), and private industrial new work, which fell by £9 million (€10.29 million).
Looking at the month-on-month seasonally adjusted chained volume measure from the main construction sectors, construction output decreased by £100 million (€114.39 million) in August compared to July. Most notably, housing repair and maintenance negatively impacted the total figure by £81 million (€92.63 million).
Cautious optimism
These encouraging figures have been welcomed by Michael Thirkettle, chief executive of construction consulting and design agency McBains, but with some caution.
"We're still not out of the woods however, with Brexit worries still on the horizon and the cost of imported materials remaining high due to the weak pound," he said. "Before this recent upturn in output, we saw several months decline, so evidence of sustained growth is needed before we can safely say we're on the road to recovery."
Thirkettle emphasised the fact that the industry needs incentives from the government to help give housebuilding a further boost.
"We're still building fewer homes than required, and while we heard a lot at the recent party conferences in terms of demand-side policy announcements to help more people onto the housing ladder, there was little detail on the supply side to help the industry build the homes that will allow such aspirations to be met."