Geda expands partnership with French specialist
By Leila Steed03 April 2023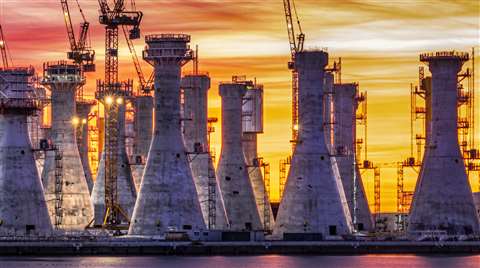 Transport platform and hoist specialist Geda and French crane rental company Uperio have expanded their partnership agreement, adding sales and rental services for a number of additional Geda platform models.
With a fleet of 2,000 slewing tower cranes spread across 32 depots globally, Uperio has offered Geda's 2 PK crane operator hoists since 2018. Now, under its new agreement with Germany-based Geda, it will also provide Geda's construction and industrial transport platforms to its rental range.
According to Geda, Uperio has invested in 56 of its 500 Z/ZP transport platforms. The units, which can be used in harsh construction site conditions, have a maximum payload capacity of 850kg when transporting construction materials and a 500kg payload capacity when used in passenger mode to transport site personnel. 
With separate controls for each mode of use, the GEDA 500 Z/ZP can lift construction materials at speeds of up to 24m/min and 12m/min when carrying passengers. 
Uperio's units have already proved their capabilities, having been hired out in 2021 for operation on the 500MW Fécamp offshore wind farm project, situated off the coast of Normandy.
The "56 GEDA 500 Z/ZP were used on a daily basis for the construction of this gigantic wind farm," said Geda, to ensure the safe transport of passengers at the construction site and eliminate the need for "strenuous, hazardous climbs". 
"The reliable and robust helpers [platforms] served their purpose for a period of around ten to twelve months", and while most of them have now been serviced and added to Uperio's rental fleet, a limited number of "very well preserved second-hand" units and accessories are now available for sale from Uperio. 
Describing its renewed partnership with Uperio as "the start of a new chapter ", Geda said it is "very proud to have gained Uperio as an official partner for the sale and hire of transport platforms."