Geda launch makes first appearance
By Euan Youdale01 November 2018
The newly-developed Geda BL 2000 person and materials hoist has been put to work at an apartment complex in the Cypriot town of Limassol.
TCS Tower Crane Services, in cooperation with construction company Stagakis, based in Athens, rented and erected the BL 2000 on site. Stagakis and Geda-Dechentreiter have been working together since 2016 on numerous complex construction projects.
The construction of the apartment block presented them with a few challenges, explains Christos Kolokotronis, a mechanical engineer at TCS Tower Crane Services, "Due to the building's architecture it was initially difficult to find the right position for the hoist. Internally there was not enough space nor did the partially curved architecture of the external façade give us much room for manoeuvre. Added to this, the anchoring forces could only be installed on the landing levels which made the precise positioning even more difficult." The TCS-Stagakis and Geda experts jointly developed a flexible anchoring solution.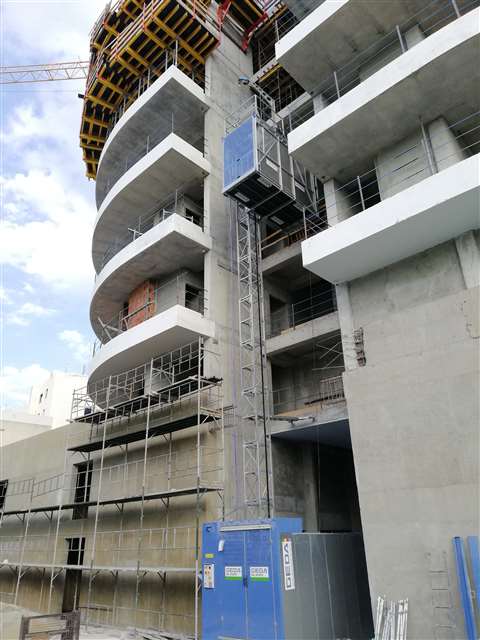 The BL 2000 has a load capacity of 2,000kg or 23 people and a lifting speed of 55 m/min. The new power pack is available as a single and twin variant. Customers also have the choice between a Standard and a Premium model. The fixed platform size of 1.45 x 3.20 x 2.10m enables the transportation of bulky goods up to a lifting height of 250m.
The benefits of the 2000 were demonstrated for the first time during the construction of the apartment building in Cyprus, including the easy assembly of the Geda S-mast segments which can be used, without any retrofitting, on both the single and twin models of the Geda BL 2000.
"The erection height on the apartment complex in Limassol is about 70m which normally would require lots of programming of the stop positions," says Kolokotronis. "However, the incremental encoder of the Geda BL means it is very easy to programme. Furthermore, the frequency converter makes the transportation process smooth and comfortable at start-up, when stopping at the stop positions and during the entire period of travel.
The possibility of remote maintenance and access is also benefit. Depending requirements, the BL 2000 Premium can be reprogrammed flexibly by the touch of a button from 2000 kg/63 amperes to 1500kg or 1000 kg/32 amperes, enabling the hoist to be used for many different purposes, which in turn offers the customer flexibility.
A visible wind sensor is also integrated into the display. This ensures that if the wind conditions are too strong the hoist is moved automatically to the ground station. This is an additional safety feature in particular for coastal construction sites.
The Premium Edition can also be used as a pure material hoist which means that the different landing levels are also accessible without any operators in the car.
As an option the new Geda BL 2000 can also be equipped with an automatic lubrication device, an access or finger print system as well as car heating.