Gemini air power with CTE
By Euan Youdale04 September 2017
CTE distributor in India Gemini Power Hydraulics has delivered a truck mounted ZED 29 to the International Airport in Mumbai.
The CTE platform, mounted on a Tata truck, will carry out maintenance operations at the airport. In recent days Gemini also provided training sessions for the operators and final commissioning of the machine.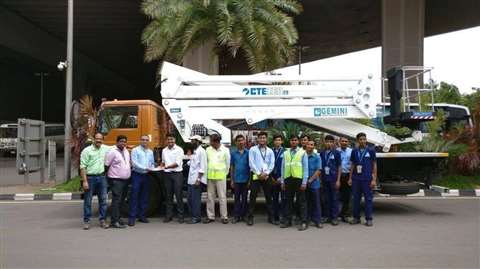 Gemini Power during the commissioning and training session with Mumbai Airport employees.
The unit reaches 29m working height, 15m outreach and 250kg capacity. It has a double pantograph and a telescopic boom, 360° continuous turret rotation on bearing turntable and hydraulic basket rotation. Dimensions are designed to be compact at 8.3m long and 3.6m high.
Gemini has been operating in India for 30 years in the industrial and construction sectors.