GenAir adds Atlas Copco air compressors
By Leila Steed18 March 2020
Specialist rental company GenAir has expanded its equipment fleet with the addition of air compressor sets from manufacturer Atlas Copco.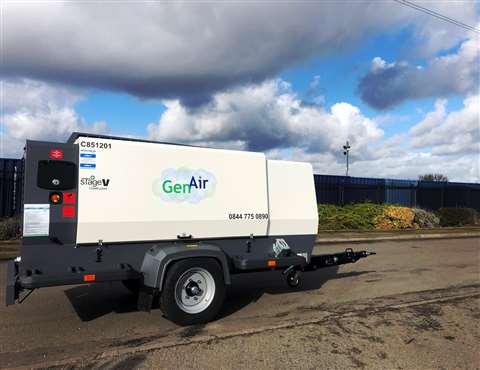 The UK-based company has added an unspecified number of XAHS 408 air compressor units, which can eliminate around 70% of moisture from the air thanks to a built-in after cooler and water separator.
David Timmins, Managing Director of GenAir, said, "We currently manage a fleet of diesel, electric and oil-free compressors from 260 to 960cfm [cubic feet per metre].
"However, we were aware that we needed to introduce these new sets to enhance our range, helping to bridge the gap between our 600 and 900cfm models."
The XAHS 408 can deliver 850cfm at 170psi in ambient temperatures of between -25 and 50°C.
Fitted with a 'rental quality' canaopy, the model is a compact unit weighing just 3,500kg and, with a noise level of around 74dBA at 7m, it is described as 'low noise'.
It is powered by a Stage V compliant diesel engine, has a 270 litre fuel tank and can also be fitted with spark arrestors and a shut down valve, for use in sensitive environments such as oil refineries.
GenAir, which operates from three UK depots, serves customers across the country and overseas.