Generac names 2015 Salesman of the Year
By Helen Wright03 March 2016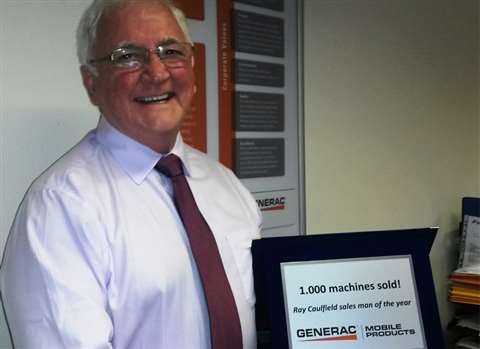 Manufacturer Generac has named Ray Caulfield as its Salesman of the Year for 2015 after he reached the target of selling over one thousand lighting towers during the year.

Mr Caulfield, who has been with the company since its inception in 2010, said, "I am delighted to accept this award. Even though I have been in the industry for many years, it's still nice have your efforts formally recognised.
"In particular, I would like to thank all my customers in the hire industry for their support and placing orders for our range of lighting towers – without them I couldn't have reached this milestone.
"I would also like to pay tribute to the back room team, past and present, at Generac UK. Their dedication and hard work has made a significant and priceless contribution to this organisation's successes."
Mr Caulfield is a well-known and popular character in the rental industry, having been a director of several leading manufacturers of equipment used by many hire organisations.
Outside of work, Mr Caulfield is involved in a number of charities, in particular the London Ex Boxers Association and was himself a keen amateur boxer and was once a British Champion in the late sixties
Generac Mobile Products UK is based in Milton Keynes and was formerly known as Tower light UK. The company is a division of Generac Holdings, a North American generator manufacturer and now a global producer of lighting towers.