Genie appoints PSK in Russia
By Euan Youdale11 December 2019
Terex AWP has appointed PromStroiKontrakt (PSK Holding) as its authorised distributor for the full range of Genie MEWPs and telehandlers in Russia.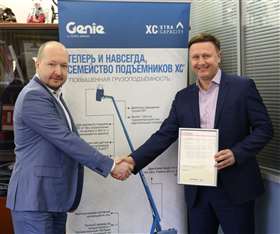 Igor Philippov with Sergey Bondar.
This recent appointment strengthens the existing Genie distribution network in the region. Igor Philippov, Genie regional sales manager Russia & CIS, Terex AWP, said, "Russia is a huge territory where the construction sector and demand for Genie products is growing rapidly."
Genie added that PSK is a strong group with long experience in the construction sector, that can adapt to the challenges in the region. This means access to Genie equipment in Russia is now much easier, backed by a full sales and service network.
Founded 20 years ago, PSK began business as a formwork specialist, expanding over the years to adapt to an evolving market. Today the company has three production facilities in Russia.Based in Moscow with a warehouse and service depot, PSK operates from more than 22 branches supporting Russia, Belarus and Kazakhstan.
Sergey Bondar, vice president PSK, said, "PSK operates in an extremely broad field of construction-related sectors, and as such, we are a front-line witness to the fast-developing market and the need for quality equipment. The Genie product offering fits in perfectly with our sales and development concept."