Genie breaks facility ground in China
By Lindsey Anderson24 September 2008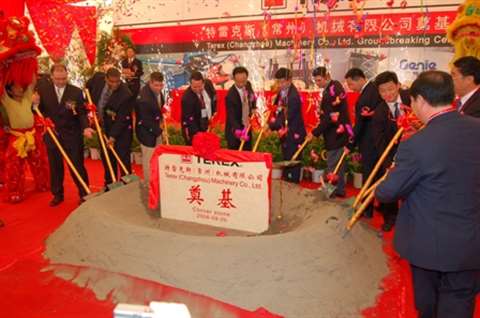 Aerial work platform manufacturer Genie Industries, part of the Terex Corp., broke ground in Changzhou, China, for a new facility.
"We are excited to break ground on this new facility with our partners, ATC Projects and the Changzhou National Hi-Tech District Business Park," said Tim Ford, president of Terex AWP. Production is expected to begin mid-2009, the company said.
Ford said the new manufacturing facility will expand Genie's global presence while allowing the company local production to meet local needs. "China represents one of the biggest potential markets for us, and China will become one of the largest aerial work platform markets in the world," Ford said. "We know it will happen, and we are positioning ourselves for it."
The facility, located northwest of Shanghai, will be Genie's first manufacturing plant in a local Asian market. It will house multiple product lines, starting with personnel lifts, and eventually expanding into a full range of aerial work platform products. Paul Caldarazzo, vice president of Terex AWP said the Changzhou site will help Genie execute its long-term manufacturing strategy. "It will provide products in strong demand within the region using many of the best practices that we have developed in our lean manufacturing implementation over the past decade," he said.
Genie has had a branch office in China for 10 years. The new facility can employ up to 400 people.