Genie goes back to school for simulator project
By Euan Youdale26 August 2016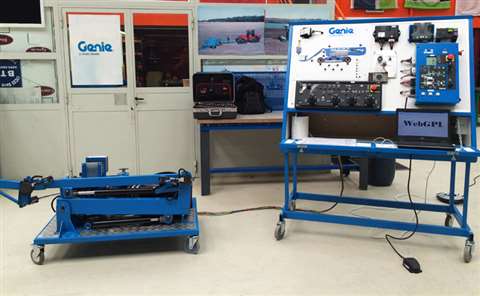 Following the Genie Academy, an access equipment training programme initiated in 2014 in the UK, the manufacturer set its sights on teachers and their pupils as part of projects related to their studies.
Such was the case for two students studying for a BTS* in Public Works and Handling Machinery Maintenance and Aftermarket Services at the René Cassin High School in Mâcon, France who helped develop a Genie ZX-135/70 articulating boom simulator - "An innovation that could well represent a small revolution in the field of training," said the manufacturer.
The project was carried out with the support of Vincent Vaché, technical services manager, Terex AWP, EMEAR and David Petitjean, technical trainer at Genie France, and took place during the second year of the student's studies and involved steel manufacturing diploma pupils from the same school.
"The main idea was as follows: The 43 m boom, the highest in the Genie articulating boom range, is not necessarily available at all training sessions. Even when it is, certain functionalities such as angle sensor calibration or troubleshooting are impossible to demonstrate. However, with a simulator they are," said a Genie spokesperson.
The idea first sprang to mind in May 2013 when, with the financial contribution of the Council of the region of Bourgogne, a Genie Z-45/25 boom was delivered to the school to enable the students to familiarise themselves with Genie products. This led to the launch of the simulator project in September 2014 and by 2015, its specifications were ready.
Technically, the simulator is comprised of two elements: one is electronic and the other manual. The mechanical element is represented by a working model of the machine's three-section boom and simulates their movements, which are in turn controlled via the second element: an electronic control panel.
In terms of its realisation, the years 2015 and 2016 marked the research and development phases of the project, the activation of the cabling and control system, the presentation of the concept in progress at the Genie Technical Summit at Disneyland Paris, followed by the conception and finalisation of the energy chain, and the showcasing of the simulator model in its final phase of development at bauma 2016 in Munich, Germany.
For Genie, as underlined by Vincent Vaché: "The project was also the opportunity to transmit our skills and experience to the young people who will continue to build tomorrow's aerial industry. This simulator is the perfect example of the result of the close collaboration between our brand and students and has encouraged us to move forward with the development of similar initiatives that we are currently in the process of evaluating."
By October this year, the simulator will be operational and sent to the Genie European Distribution Centre (EDC) in Roosendaal, Holland where it will be used by the Genie training team as part of their technical training programmes.