Genie introduces high float booms
By Lindsey Anderson12 July 2018
Genie has debuted high float (HF) models for its S-80 and S-85 telescopic booms that are designed to perform heavy-lifting tasks on sensitive ground conditions. Engineered to "float" on soft or delicate surfaces, the Genie S-80 and S-85 HF booms protect softer surfaces during operation that could be damaged by the more aggressive tread. The Genie S-80 HF and S-85 HF models are currently available in North America. Additional Genie HF models will be added, and the product line will be expanded globally, in the future.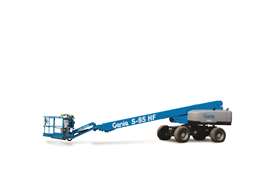 "The new Genie HF models are based on the design and engineering of the Genie Xtra Capacity (XC) booms, complying with the overload restriction and terrain sensing guidelines in the new ANSI A92 and CSA B354 industry standards in North America, as well as European EN280 and Australian AS 1418.10 standards," said Corrado Gentile, Genie product manager, Terex AWP. "Our goal with the Genie HF machine design was to enhance operators' productivity on soft or delicate ground surfaces. This new generation of high float booms delivers extra capacity capabilities with increased performance in sensitive ground conditions. This translates to fewer lift cycles, less equipment needed to get tools and materials to work areas at height and the ability to work on jobsites where regular rough terrain machines do not perform."
The Genie HF models offer a dual lift capacity of 600 pounds (272 kg) unrestricted and 1,000 pounds (454 kg) restricted. The units also feature automatic envelope control, which is the ability to automatically retract as the booms reach their operating envelope. This allows for simple platform positioning and an enhanced operator's experience. The Genie HF booms are also equipped with a load sense cell that continuously checks the weight in the platform and limits the operating envelope to match the load chart.
The Genie S-80 HF and S-85 HF booms also have a unique chassis tilt sensor incorporated into the machines' function. The chassis tilt sensing technology gives operators access to different ranges of motion based on the chassis angle. The feature is engineered to automatically cut-out certain lift and drive functions of the machines when the tilt activation setting is reached.
Like the Genie XC booms, the Genie S-80 HF and S-85 HF models have been updated with a CAN-based control system that incorporates the familiar Genie Smart Link control system. Genie said service technicians will appreciate the onboard diagnostics available on the new LCD display at the ground controls, allowing machine setup, calibration and troubleshooting right on the machine.
Both the Genie S-80 HF and S-85 HF boom models are equipped with air-filled 41/18LL x 22.5 20 ply tires. For productivity in the air, the Genie S-80 HF model has 86 feet (26.38 m) of working height with 68 feet, 6 inches (20.88 m) of outreach. The Genie S-85 HF boom has 91 feet (27.91 m) of working height with 72 feet, 6 inches (22.10 m) of outreach. Both units are available with a 74-hp (55 kW) Tier 4F/Stage IIIB diesel engine. The booms' design incorporates a 6-foot (1.83 m) dual entry or an 8-foot (2.44 m) tri-entry platform with side-swing gate.
For additional productivity when working at height, the Genie S-80 HF and S-85 HF models can be equipped with the optional Genie Lift Power generator solution. This system includes a dedicated hydraulic circuit, a right-sized breaker and no pressure switch to reliably run the unit and allows for the power to lift and drive during operation. The Genie Lift Power system is available in three options — 3 kW, 7 kW and 12 kW.