Genie super boom launch
By Euan Youdale23 February 2015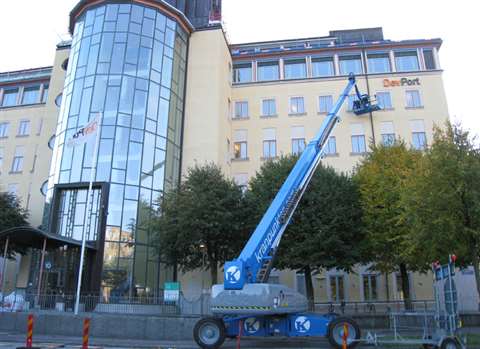 Genie has announced a new Super Boom at The Rental Show, taking place in New Orleans, February 23-25. The manufacturer is also presenting three other products in North America for the first time.
The 150 working height Genie SX-150 telescopic boom lift extends its Super Boom range following the launch of the 180 ft SX-180 in 2013.
The SX-150 is not at the show, but Genie explained it is suitable for applications in construction, maintenance, telecommunications, gas and oil refineries, chemical maintenance, and large utility applications.
"We consider this boom lift to be a versatile workhorse that is tremendously durable for challenging environments," said Karen Stash, senior director, global product Management and marketing, Terex AWP.
The SX-150 boom reaches its full platform height of 151 ft in under three minutes. The boom offers four programmable height settings of 150 ft, 135 ft, 120 ft and 100 ft for rental versatility, and a 10 ft horizontal and vertical rotating jib allows for quick local repositioning of the platform.
With a horizontal outreach of 80 ft, the model also offers 70 ft of outreach at 120 ft of platform height. The SX-150 provides unrestricted ROM with a lift capacity of 750 lbs for a maximum of two people.
A standard 7.5 kW on-board generator powers tools, including welders. Weighing 50,700 pounds, with a tail swing of 3 ft 6in and ground clearance of 15 in, the boom lift is transportable on a standard trailer; no over-size permits are required.
The boom uses an identical, field-proven chassis design to the SX-180 and ZX-135.
Electric boom
Genie is introducing its compact, lightweight electric Z-boom lift to the North American market at The Rental Show. The Genie Z-33/18 boom, launched at APEX in the Netherlands last year, is suited to tasks on sensitive surfaces where space or floor load is restricted.
Weighing 8080 pounds with a ground clearance of 5.9 in, airports, shopping centres and theatres are example applications, as well as routine outdoor maintenance tasks.
Its key features include solid non-marking tyres, long working cycles due to low-consumption AC drive transmission, a tight turning radius for increased maneuverability, the ability to drive at full height, plus the benefits of the Genie FastMastMboom system that shortens ground-to-top lifting time.
"This is a completely new Genie model designed to offer a great combination of lightweight, compact dimensions and 'up-and-over' lift capabilities combined with powerful drive motors," said Ms Stash.
Articulating launch
Also On the Genie stand at the show is the new Z-62/40 articulating boom lift, first launched in Europe last year. It is an update of Z-60/34, increasing the working height from 60 ft 4 in to 61 ft 11 in and provides more horizontal outreach with a maximum of 40 ft 9 in compared to 36 ft 3 in in the previous model.
It still delivers up and over clearance of 26 ft 8in with a maximum lift capacity of 500 pounds. The new boom lift offers zero rear tail swing and minimal front turntable tail swing in the stowed position and has a below ground reach of as much as 5 ft 6 in. The machine weighs 22,155 pounds and stows to the compact size of 24 ft and 10 inch.
"Updating to Tier 4 Final compliance allowed us to completely re-envision our Z-60 boom and make it more competitive in today's marketplace," said Ms Stash.
Scissor debut
Also on the stand is the Genie GS-4047 self-propelled electric scissor lift, designed to meet the demands of tightly packed, high rise indoor spaces found in modern tilt up warehouse construction.
This ANSI/CSA certified model lifts up to 550 pounds to a maximum working height of 45 ft and drives at full height. The scissor lift's top applications include industrial construction, warehouse maintenance, maintenance and indoor painting and cleanup.
"We are extremely excited to bring this product to the North American market," said Ms Stash,"This unit has seen great success in Europe, and it is already being met with enthusiasm in the US."
Dual front-wheel drive and a zero inside turning radius, combined with a compact footprint of just 8 ft long and 47 in wide stowed, the GS-4047 scissor lift is suitable for maneuvering around tight restrictive work environments.