Genie to present lithium scissor
By Euan Youdale01 March 2019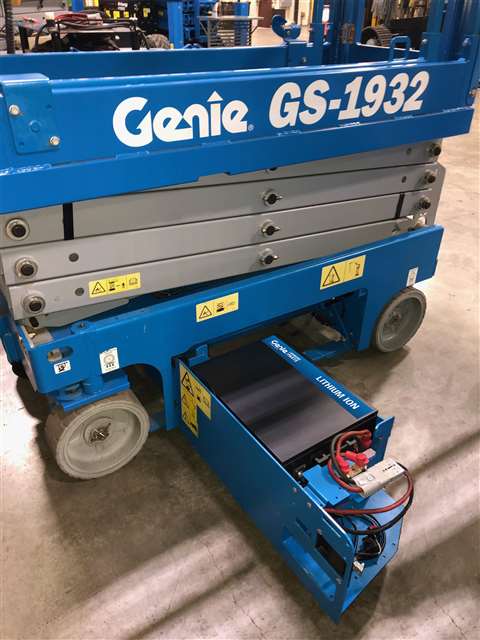 Genie will present lithium ion batteries on one of its scissor lifts for the first time in Europe at Bauma.
The battery technology will appear on the Genie GS-1932 scissor lift, and will soon be available as an option on selected GS slab scissors. They are specifically aimed for construction sites and are particularly suitable for cold weather performance and charging.
"This new lithium ion battery technology is an important step for the European market where rental companies are conscious of the need to offer environment-friendly solutions to remain competitive," says Zach Gilmor, Genie product manager, Terex AWP, EMEAR.
He continues: "By comparison to lead-acid batteries, in addition to requiring minimal maintenance, Genie lithium ion battery packs last up to four times longer, only needing to be replaced every seven or more years, which is equivalent to a typical machine's initial rental life time. Saving time and costs, this extended battery lifecycle also reduces waste. On the jobsite, operators will find that our machines that are equipped with this option are better suited to tougher applications where increased performance and zero-emissions and low noise operation are paramount. Charging time to 100 percent capacity is also reduced by 33%."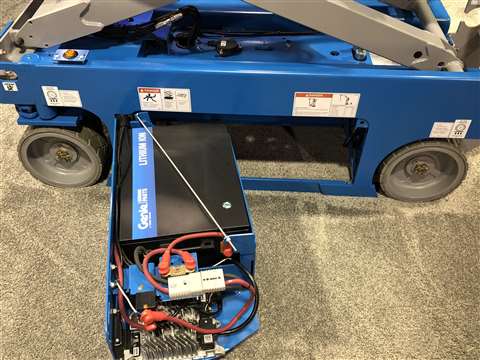 The new Genie lithium ion battery option is made up of a Lithium Iron Phosphate mixture (commonly referred to as LFP), a proven battery chemistry well suited for the performance required in demanding rental applications and jobsite environments, said Mike Flanagan, Genie product manager, Terex AWP, in Redmond, "To further enhance performance of the new Genie lithium ion battery, we have incorporated battery heaters into the design of this new option to enable the battery to provide reliable, consistent operation in temperatures down to -20° F (-29° C)."
The new Genie lithium ion battery option is compatible with the Delta-Q charger for Genie Lift Connect telematics and Genie Tech Pro Link device connectivity. Developed in direct response to rental business needs, the Genie Lift Connect telematics solution is focused on actionable information, flexibility and transparency.