Genies fix mountain road
By Leila Steed17 May 2019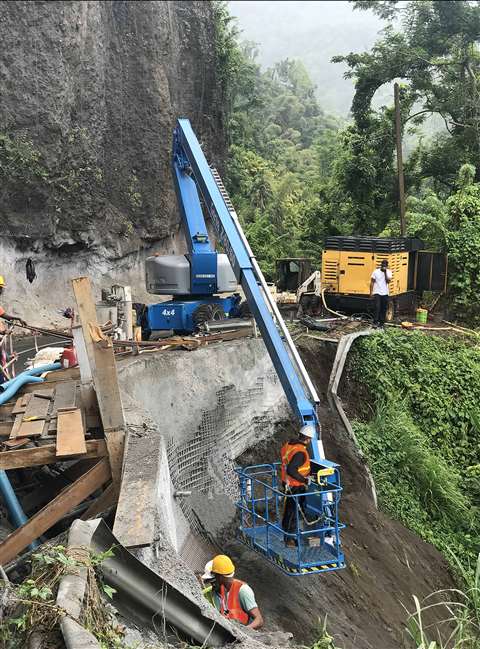 A Genie Z-80/60 articulated boom lift was used to complete repair and reinforcement works to a road in the foothills of Mount Pelée, on the Caribbean island of Martinique.
According to Genie the road, which leads to an isolated fishing village called Grand'Rivière in the north of the island, was in urgent need of reinforcements.
French Contractor BTP Hydrosee took on the project, which Genie said involved strengthening the road's supporting concrete walls while keeping it open to traffic.
Loca System recommended the Z-80/60 model, due to the island's rugged terrain and the road's abrupt verticals and multiple tight bends. It also said the region's uncertain weather added to the challenges of the project's 8-week schedule.
Frederic Eliazord, Loca System's sales manager, said, "Thanks to its horizontal outreach of more than 18m, the Genie Z-80/60 boom lift means that there is no need for scaffolding, which for specific tasks enables operators to work more efficiently and rapidly. This is particularly the case for painting, carpentry and masonry work.
"Additionally, the machine's below-grade abilities are a real advantage for BTP for renovation work beneath the existing construction, as well as for work at height where access is restricted."
Genie Z-80/60 specifications
The Genie Z-80/60 boom lift has a horizontal outreach of more than 18m and a below-grade reach of almost 5m. According to Genie its compact dimensions and 1.83m jib offer a vertical rotation of 135 degrees, which enables operators to position themselves accurately.