Gensets: Making the transition
By Thomas Allen30 July 2020
The power rental sector, as part of the broader energy generation industry, is being profoundly affected by the current energy transition.
Rental company customers are changing the way they procure and consume energy, according to Karim Wazni, Head of Aggreko Microgrid and Storage Services, and he says the company uses the '4D' framework to think about this change.
"Three of the D's refer to Decarbonisation, Decentralisation and Digitalisation, which are major trends impacting the energy sector," says Wazni, "and the fourth D that we've added is Demographics – how the increase in the population size drives the increase in demand."
Wazni has been involved in the renewables sector for 10 years, initially working in the French solar industry before moving over to the energy storage sector in California, US, and eventually joining Aggreko four-and-a-half years ago.
He highlights Decarbonisation and Decentralisation as the two main mega-trends affecting the energy sector; "Decarbonisation and Decentralisation are driven by the climate change agenda, which is rising in priority for many companies and governments. But also, they are driven by improvements in the way that we can produce renewable energy and the cost of producing that energy."
Array of options
Nowadays, customers want to be offered a competitive approach from the growing array of options, and they also need help complying with a shifting regulatory landscape. So Aggreko has been adjusting its offering to match those expectations.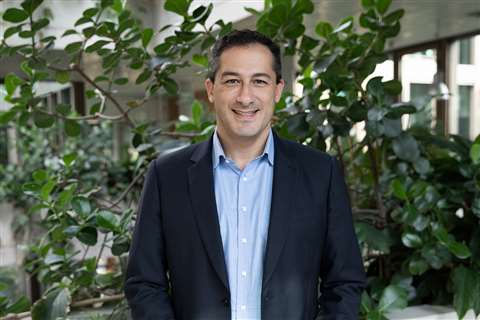 For instance, contractors in developed economies are often looking for solutions that produce fewer emissions and less noise pollution; "That's where storage is probably a good choice for those customers," says Wazni.
Meanwhile, some developing economies are skipping a step by bypassing the process of building an energy grid infrastructure and instead taking a decentred approach by generating renewable energy locally.
Another factor is resilience. With the increasing frequency of major storm events, customers are looking for solutions that enable them to operate off-grid if the grid goes down; "We are seeing that trend in particular on the northeast coast of the US and in the Caribbean," says Wazni.
So decentralisation is also valued by customers on developed power grids, and batteries have an important role to play here.
Growing opportunity
When asked about the growth of this sector, Wazni says, "As a rental company, we are not essentially in the mainstream markets for renewables and storage. We're not in the business of building large solar plants or large storage plants; we're in the business of offering assets on a temporary basis."
So the rental market for renewables and storage is nascent, but Aggreko has seen its Microgrid and Energy Storage Solutions division grow since its inception four years ago, and the company is investing in its energy storage fleet.
Overall, Aggreko has about 5GW of diesel generators on rent, on average, and approximately 1.2GW of gas generators on rent. Over the past three years, the company has developed about 200MW of 'hybrid' projects.
"When I say 200MW of hybrid projects, what I mean by that is we look at the mix of the megawatts of solar that we deploy, the megawatts of batteries and the megawatts of thermal assets that are operating together to provide a service to customers," says Wazni.
So this gives an idea of the scale of the Microgrid and Energy Storage Solutions division, but it is growing quite quickly, according to Wazni; "We have a significant pipeline that is about 4-5 times bigger than this, that we think we will continue to grow over the next few years."
Aggreko is working on building an energy storage fleet of megawatt-scale – a fleet of the company's own Y.Cube lithium-ion battery systems.
"By the end of the year we will probably have one of the largest battery fleets in the world, of megawatt size," says Wazni.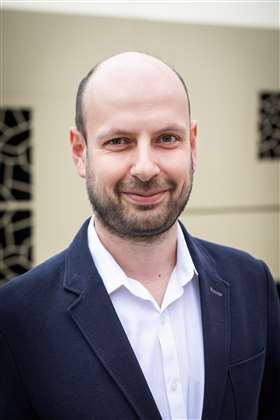 'Green' trend
On the topic of the energy transition, Jan Moravec, Director of Product Management and Engineering at Doosan Portable Power, EMEA, tells IRN there is a general movement towards more environmentally friendly solutions. This is particularly the case in countries where there are incentives to use green technology, such as the Nordic countries, the Benelux region and the UK.
However, he says, "The main difference and challenge is the need to substitute conventional systems that use a combustion engine with inherently electrical systems, and this is feasible for certain applications with lower demand but is much less applicable where there is continuous demand for higher power density sources."
Although Doosan Portable Power is exploring hybrid systems and the option of hydrogen power, Moravec says, "Diesel engines will make huge steps forward and with Stage V provide significant emission pollution reduction."
One of the main difficulties of designing more environmentally friendly generators is the fact that they are more complex systems that often require more space; "It is a challenge for our engineering teams to package them appropriately," says Moravec.
An even bigger challenge, he says, is minimising the impact of the more complex technology on maintenance requirements and trying to keep it simple for users.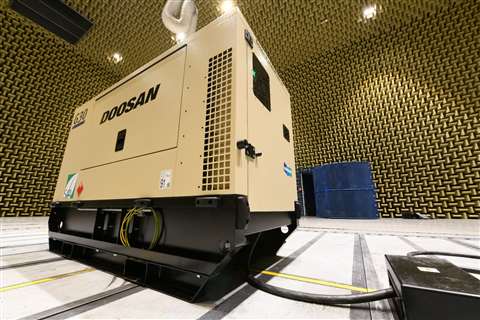 Dealing with complexity
As the mobile genset market transitions from EU Stage IIIa to EU Stage V, Caterpillar also highlights the challenge of new product complexity, availability and increased costs.
EU Stage V extends the scope of regulated products to cover outputs greater than 560kW for the first-time. But Caterpillar says gaps in product availability will occur because, while OEMs are phasing in their new EU Stage V products, engine manufacturers have not yet announced certified engines available for products greater than 560kW.
The combination of technical and commercial issues will impact rental operators who must work to offset the significantly higher price of these units. As a result, in the years to come, Caterpillar expects rental rates will need to increase if rental companies are to maintain their return on investment.
Selective catalytic reduction (SCR) will be required for all units above 560kW, and for this Ad-Blue must be used, which is an additional item for power rental companies to consider. Also, Stage V will necessitate the use of diesel particulate filters (DPF).
"The need for this additional hardware, combined with a significantly greater level of complexity in the engine design, requires a fully integrated solution tested for optimal performance and usability," says Gareth Osborne, Caterpillar Product Definition for mobile generator sets.
Particulate matter
He suggests that many rental genset applications have low load factors or use oversized equipment due to limited information about the customer's load profile. This can lead to the accumulation of particulate matter within DPFs due to low exhaust temperatures.
To avoid this, the regeneration process in Caterpillar's gensets is managed automatically with the intelligent measurement of DPF soot levels, so operators do not need to get involved.
Atlas Copco has introduced four new models to its QAS 5 range of mobile diesel generators, which are EU Stage V-compliant: the QAS 5 250, 325, 450 and 660.
The company said operators can take advantage of the QAS 5 range's compact size, quiet operation, enhanced fuel economy and low total cost of ownership, and up to 660kVA power, while reducing their emissions.
This brings the total number of generators in the range up to nine, providing power from 80 to 200kVA on Stage IIIA, and from 250 to 660kVA on Stage V.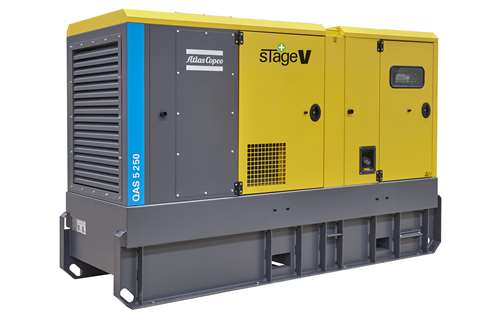 Rental in mind
Designed with rental in mind, the new generators are built to be portable and have a sturdy frame with integrated forklift slots that can bear four times the weight of the unit without deforming.
These generators are suitable for use in construction, events and utility applications, helping companies improve their fleet utilisation and return on investment.
"The new generators are a welcome addition to the QAS 5 range, and have been developed in response to customer demand for larger power capacity, but with a more sustainable operation that meets legislation," said Sergio Salvador, Product Marketing Manager, Small and Medium Power Generators at Atlas Copco.
"The QAS 5 generators are proven as reliable in demanding industrial environments and are enabling customers to improve plant performance," he added.
The new generators are designed to be especially quiet in operation, with noise levels as low as 85dBA. This has been made possible, in part, by the variable speed drive (VSD) air cooling, as well as silencers and an isolated compartment for the power pack.
Paralleling
The new plug-and-play units can also be paralleled with each other to create a mobile or independent power plant. Quick paralleling is made possible by the Power Management System (PMS), which automatically starts and stops the generators in response to changes in demand. The load on each generator remains at a level that optimises fuel consumption.
The 250, 325 and 450 generators feature Scania engines, while the 660 uses a Volvo engine. All four models have Leroy Somer alternators.
As an option, the units are available with Atlas Copco's FleetLink telematics system.
In September, Atlas Copco also plans to launch an energy storage system called ZenergiZe. It can be used as a standalone unit or in combination with generators to create a hybrid power solution.
Rental range
Inmesol has also launched a new Rental Range of gensets with engines that comply with EU Stage V/US Tier 4 and can be used with renewable fuels.
The models in the range from 12 to 110kVA are powered by Kohler engines, while the 170 to 740kVA models are powered by Volvo engines.
The Volvo engines are certified for use with hydrogenated vegetable oil.
The new gensets are available with controllers from Deep Sea, Comap and Deif, making it easy to combine the gensets with other power solutions
Inmesol has also introduced a new ISO Container genset series, which have two Volvo engine-powered gensets inside and range in power from 550 to 1,480kVA.
Whilst being able to deliver more power, they also have the flexibility to be adapted to power requirements by running either both gensets or just one.
Their standard genset controller enables up to 16 units to be connected together.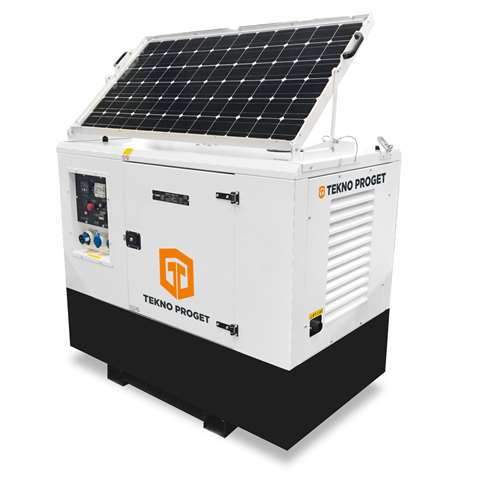 Responding to demand
In response to growing demand for more sustainable energy, Italian firm Tekno Proget, a division of Trime Group, has begun to focus on creating a range of gensets that deliver low-emission power.
At present, the division offers two choices: Battery/Hybrid and Solar/Battery/Hybrid with power outputs from 6 to 100kVA, single-phase and a three-phase.
The Tekno Proget Solar/Battery/Hybrid sets produce electricity via a sequence of solar and battery power backed-up by a small diesel engine.
They feature a fully adjustable roof-mounted solar panel that charges the unit's lithium iron phosphate batteries. The solar panel is designed to operate in most weather conditions.
Meanwhile, the Battery/Hybrid units have just an engine and a battery.
Matteo Tagliani, Tekno Proget's Sales Director, said, "This is just the start. We already have in place advanced plans to expand this range up to 200kVA. In addition, we are committed to continue exploring new techniques that will help us to build a complete line of low-emission and emission-free generators."
New 1MW genset from Himoinsa
Spain-based manufacturer Himoinsa has introduced its new 1MW HRYW-1275 D5/6 dual-frequency genset.
Said to offer competitively low operating and maintenance costs, the new model consumes 184 litres of fuel per hour at 75% load.
Himoinsa became part of the Yanmar group in 2015, and this is the first heavy-duty Himoinsa genset to have a Yanmar engine. The AY40L-ET engine that powers the genset was designed collaboratively by Yanmar and Himoinsa.
Yanmar's engines, turbos and power systems are designed to work at the Best Efficiency Point (BEP) in both variable and fixed load applications; "This allows the best efficiency in fuel consumption, ensuring a lower OPEX than other options on the market," says Miguel Ángel Ruiz, Global Engineering and Development Head at Himoinsa.
The generator also has a variable speed remote cooling system that was jointly designed by the Yanmar and Himoinsa development teams.
The HRYW-1275 D5/6 genset comes in a 20ft container and has a 1,000 litre capacity fuel tank.
Designed for continuous work for long periods, the new unit offers prime rated power (PRP) of 1,278 and 1,303kVA at 50 and 60Hz respectively.
The model also incorporates a parallel control unit, which allows the genset to be connected to other generators. It has its own access door.
Ease of transport and maintenance are also key to the design of the new genset.
The container in which the genset is housed is leak-proof and certified for sea transportation. It has multiple external assess points for maintenance tasks, and the unit's wide doors are located next to the main accessories and components inside. Internal LED lighting illuminates the workspace.
A coolant pre-heating system with a built-in pump, a water separator filter or an oil refill kit can also be included as optional extras.
To lengthen maintenance intervals, the unit can be fitted with an automatic crankcase oil filling system.
Remote monitoring is also available as an option.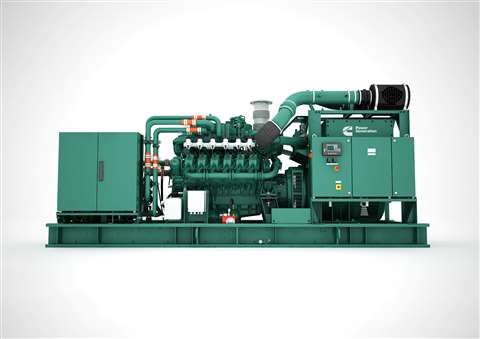 The benefits of gas
As Cummins introduces its latest gas genset, Ann-Kristin deVerdier, Executive Director of Energy Management Segment at Cummins, argues that natural gas has come of age.
She cites the fact that it can provide an un-interrupted supply of fuel, offers a cleaner alternative to diesel, and a better total-cost-of-ownership, as well as being future-proof.
Cummins' latest gas genset, the 25 litre C25G, joins the HSK78G and QSK60G series, offering a wider range of integrated solutions, from 500kW to 2MW.
The company's newest gensets offer fuel flexibility since they can burn pipeline natural gas, flare gas and biogas, as well as the lowest-BTU fuels.
deVerdier says the typical fuel cost ratio for diesel versus natural gas is 6:1, meaning that gas generators can provide significant cost of ownership savings.
"We've also seen improvements in gas engine technology, pushing maintenance and overhaul limits well beyond the traditional envelope, thereby further lowering Opex costs over time," deVerdier adds.
For instance, the HSK78G has a major overhaul service cycle of 80,000 hours.
In the context of progressively stringent global emissions standards, modern gas-powered gensets are also said to offer a cleaner alternative to diesel gensets.
"Air pollutant outputs are lower," says deVerdier, "including NOx, hydrocarbons, carbon monoxide and particulate matter, allowing the machine to operate in urban environments with tight emissions regulations."