Gerken purchases 30 Snorkel booms
By Lindsey Anderson13 June 2017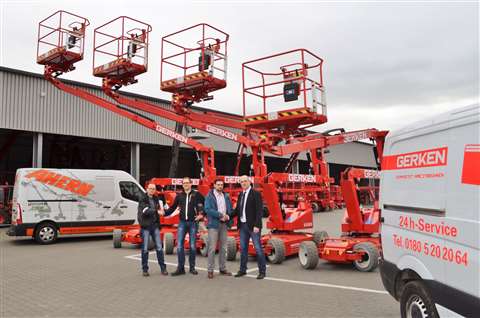 Ahern Deutschland, the sales and service provider for Snorkel lift in Germany and Austria, has delivered 30 Snorkel A38E electric boom lifts to German rental company, Gerken.
The 30 Snorkel A38E electric booms lifts were manufactured and custom-painted in Snorkel's Vigo Centre facility in the U.K. They were delivered by Ahern Deutschland in Gerken's distinctive red paint, in a ready-to-rent condition with all decals and livery applied. From Ahern Deutschland's facility, the lifts were shipped directly to Gerken branches and immediately deployed into the rental fleet.
The Snorkel A38E is a direct electric drive articulating boom lift that can lift up to 215kg (475 pounds) to a working height of 13.5m (44 feet). It has an outreach of 5.9m (19 feet), yet weighs just 3,795kg (8,366 pounds).
"We are delighted to add the Snorkel A38E to our fleet, giving our customers even more choice when selecting a safe means to work at height," said Christian Gerken. "The Snorkel A38E is a well-established product that delivers the rare combination of an excellent working envelope with a low machine weight. We have been very impressed with the service from Ahern Deutschland so far, and look forward to continuing our relationship with them in future."
Bernhard Kahn, general manager at Ahern Deutschland, said "Gerken is one of the leading rental companies in Germany and we are proud to supply them. The Snorkel A38E is a differentiating product for rental companies and we are thrilled that Gerken saw the advantages of this model and put their trust in us. We look forward to supporting the Gerken team and are delighted to be accepted as a new supplier to them."
All 30 Snorkel A38E lifts have been delivered and deployed into the rental fleet.