German Army buys 71 Liebherrs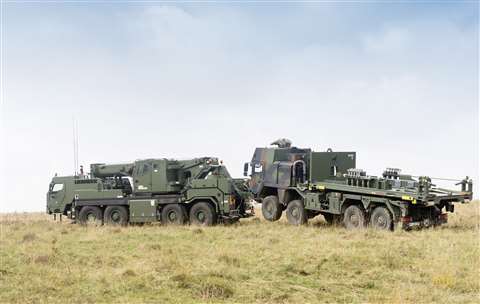 The German Army has ordered 71 armoured mobile and rescue cranes from Liebherr.
The €150 million order was placed by the Federal Office of Bundeswehr Equipment, Information Technology and In-Service Support (BAAINBw). Armoured cabins have been ordered on all 33 of the G-BKF recovery cranes and the 38 G-LTM 1090-4.2 cranes. Deliveries are due to start in the second half of 2018 and be completed by 2021.
The G-BKF is on a four-axle chassis and is equipped to lift loads and also to recover vehicles. It has a 20.9 metre telescopic boom to handle loads up to 20 tonnes in weight. Two recovery winches and a towing device at the rear help it to recover and tow a wide range of vehicles.
Also on four axles, the G-LTM 1090-4.2 is derived from the standard 90 tonne capacity LTM 1090-4.2 wheeled mobile telescopic crane. Both cabins are armoured. Its telscopic boom is 35.7 m and there is a recovery winch at the rear. In the order 21 units will have 22.5 tonnes of counterweight and carry the designation Very Heavy Duty Mobile Cranes. The remaining 17 units will have 8.4 tonnes of counterweight and be designated Heavy Duty Mobile Cranes.
Container systems for transporting crane equipment are also part of the order.
For the armoured cabins Liebherr worked with military equipment supplier Rheinmetall. The driver's cabins are designed to protect the crew from ballistic, mine and IED explosions. A nuclear bacteriological and chemical (NBC) ventilation system will also be included.