Giant carrier crane up for sale
By Alex Dahm21 August 2017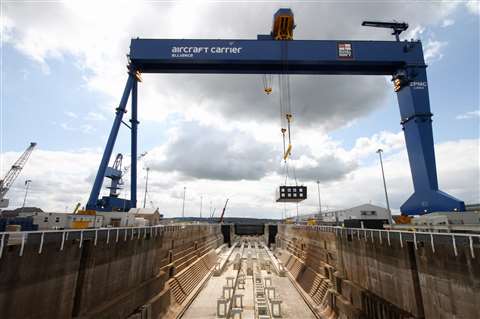 The 1,000 tonne capacity crane used to build the UK Royal Navy's two new aircraft carriers in Rosyth, Scotland, has completed its work and is up for sale.
The Goliath crane from Chinese manufacturer ZPMC was used to build the QE Class aircraft carriers HMS Queen Elizabeth and HMS Prince of Wales and is now surplus to requirements.
Engineering support services company Babcock managed the project from the beginning for the Aircraft Carrier Alliance. The crane was erected in 2011 and is one of the biggest in Europe. It completed 140 lifts building both ships by putting together the vessels in sections known as blocks.
It has a safe working load rating of 1,000 tonnes and a maximum turning load rating of 500 tonnes. Span is 119 metres and the height clearance under the beam is 68 m. Upper and lower trollies carry a pair of 300 tonne hoists, and a single 500 tonne unit, respectively. Hoisting speed is 3m/min under load and 6 m/min with an empty hook. Its maximum long travel and cross travel speed are both 24 m/min.
Power is from a Caterpillar diesel generator mounted on board, on the sill beam of the hinged leg. Electronic controls and drives are from Siemens and ABB.