GIS 2019 sets records
By Euan Youdale23 July 2019
The 7th edition of Italy-based lift, handling and heavy transport show GIS will take place at the beginning of October.
Piacenza Exhibition Centre will play host to the biennial show, 3-5 October, which his expected to attract 11,000 visitors and has almost sold out of exhibition space. At the last edition of GIS in 2017, there were more than 9,000 qualified visitors and 308 exhibitors over 33,000 square metres of showground.
This year, there are already 310 exhibitors booked, representing more than 370 brands. The show area is also bigger this year and stand bookings are expected to grow before the gates open in October.
Fabio Potestà, director of show organiser Mediapoint & Communications, said GIS had an increasing international influence. "GIS owes its success to its highly specialized visitors.
"It has now become the biggest European event dedicated to these product sectors."
Visitors will benefit from a greater range of products this year. Along with the usual array of mobile cranes, aerial platforms, telescopic handlers, trailers, vehicles for industrial and port handling, and heavy transport, other segments like tower cranes and forklifts, plus relevant components have increased their presence too.
Another addition for 2019 is the AGV (Automatic Guided Vehicles) Expo area in Pavilion 3, dedicated to automated vehicles, reflecting major investment in this area across the industry. Environmental sustainability is another important topic, which is an underlying theme this year. Green power and environmentally friendly technologies will be on show, aimed at zero emissions through battery power and a range of bi-energy and hybrid options.
Conference and awards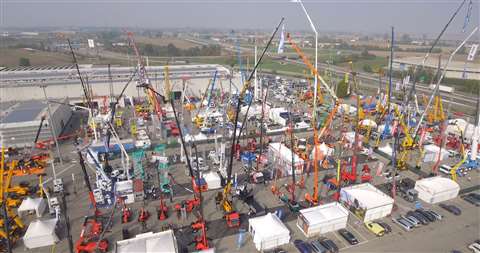 As always, the exhibition will be integrated with a rich programme of conferences and workshops. Meetings are scheduled with key associations to discuss topical issues, from machine safety to training operators, and limited road options for exceptional transport to infrastructure and the development of ports and logistic centres. They include regular partners of the show, such as AISEM, AITE, ANFIA, ANNA, ANVER, ASSODIMI, ASSOLOGISTICA and also CONFETRA, FINCO, INAIL, IPAF, UNION, among others. In all, almost 50 organisations have confirmed their support for the Piacenza exhibition, including Italy's Defence Ministry.
ESTA, the leading European association for specialised road transport and mobile crane rental, has planned its annual autumn meeting in Piacenza, in conjunction with GIS.
As always, there will be the traditional gala dinners in a new location this year, the Gothic Palace, in the central Piazza Cavalli of Piacenza. On the evening of 2 October, there will be a dedicated event for MEWPs, telescopic handlers, hoists, mast climbers and special equipment, including the ITAL Platform Awards. To follow, the evening of Thursday, 3 October will be dedicated to port terminals, intermodal and logistics operators with the ITALA Italian Terminal and Logistic Awards. To conclude, the ILTA Italian Lifting & Transportation Awards will take place on Friday and will be dedicated to lifting and heavy transport.
The schedule of events will be ready to view and download soon at the show website.