GKD Technologies team up with Kobelco
By Andy Brown08 April 2019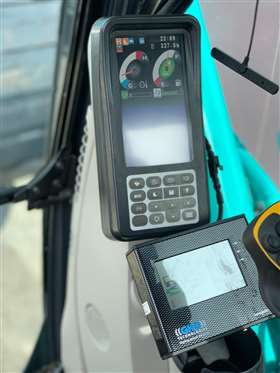 GKD Technologies has teamed up with Kobelco Construction Machinery Europe to install a GKD 2RCi slew control system to one of Kobelco's demonstration machines at the Bauma Munich show, on stand FN1016.
The 2RCi rated capacity indicator has been fitted to a 2.7 tonne Kobelco SK210LC-10, in order to restrict the machine's slew at the event whilst working in the outside demonstration area.
The GKD 2RCi is a highly flexible safety system which, in its basic form, is a simple load indicator, but can easily be configured to incorporate height and slew monitoring. Using intelligent motion cut facilities, the system can control the safe movement of height, slew and or load.
UK-based GKD Technologies designs electronic sensor technology and software for use as safety warning devices to protect people, machines and equipment in construction, earth moving and rail industries.