Global orders for Liebherr RTGs
By Sarah Ann McCay25 May 2012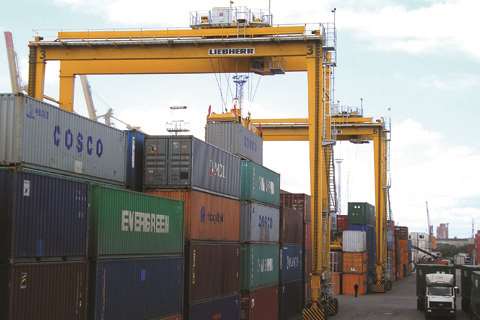 Liebherr is to supply an electric rubber tyre gantry (RTG) to the Port of Cork in Ireland.
The manufacturer is set to deliver an RTG with a 16-wheel configuration, which will stack one over five containers high and span seven containers plus a truck lane.
The safe working load for the RTG is 40.6 tonnes under spreader. Hoist speed is 28 to 56 m/min and trolley speed is 70 m/min, while the crane can travel at 70-135 m/min.
The RTG will be supplied with Liebherr DC crane drives as well as a cable reeling drum carrying 170 m of 10kV HT cable. The addition of a cable reeling drum to the RTG for the Port of Cork follows on from a similar order for five RTGs to the Port of Sharjah in the United Arab Emirates.
Earlier this year, Liebherr also signed a contract to supply six RTGs to OJSC Petrolesport in St. Petersburg, Russia. The RTGs will be delivered later this year. The manufacturer already has four RTGs in operation at Petrolesport.