Goldhofer Faktor 5 bought for Indian powergen projects
By Ian Vallely19 February 2016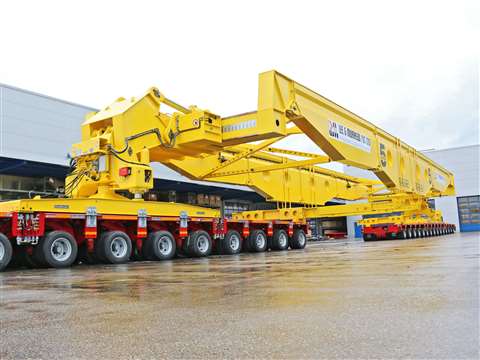 Logistics company Lee & Muirhead Pvt has invested in a Faktor 5 high girder bridge from Goldhofer Aktiengesellschaft of Memmingen, Germany, to transport generator stators in India.
Pankaj Gadhia, Lee & Muirhead CEO, said, "In the next few years, more than 30 major refurbishment projects are scheduled in the power generation industry as the power stations no longer have the generating capacities needed today. Tomorrow's power plants will be in the 660 to 800 Megawatt range."
Gadhia added, "We have to be prepared for these developments, especially with regard to the equipment required to transport the stators for the generators. They make very heavy loads, weighing anything between 350 and 450 tonnes. With our new Faktor 5 from Goldhofer we are now ideally equipped to handle such projects with maximum efficiency."
With a dead weight of 100 tonnes, the Faktor 5 can handle loads weighing up to 500 tonnes. Transporting transformers, generators and other heavy industrial components is made easier with a load length in the 11 m to 17 m range, plus variable axle configurations of 2 x 12 to 2 x 20 axle lines.
"Road transport regulations in India are particularly strict, and we need Faktor 5 to be able to transport generators and stators the length and breadth of the country and deliver them right to the construction site.
"That is why we decided to call our new high girder bridge after the Indian god Hanuman: Faktor 5 enables us to move mountains – just like Hanuman," Gadhia explained.
For Lee & Muirhead, the investment in a Goldhofer vehicle makes sense for another reason, too, "For a lot of heavy haulage operations in India, the use of Goldhofer axle lines is specified in the invitations to tender. Those with the wrong fleet simply don't have a chance of landing a contract," said Gadhia.
Stefan Fuchs, Goldhofer CEO, said, "It's great to see Lee & Muirhead investing in Goldhofer technology for the third time in 10 years and to see them moving up into a wholly new league with the help of Faktor 5. The high girder bridge is the ideal complement to the company's existing 38 THP/SL heavy-duty axle lines."