Good news in the Balkans
By Sandy Guthrie11 December 2018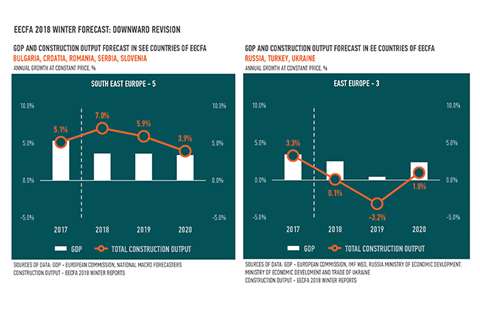 There is optimism about the construction markets in Eastern and Western Balkan countries, according to EECFA (Eastern European Construction Forecasting Association), which said it was also less pessimistic about Russia as a result of a recently announced governmental programme which is expected to affect the market positively.
EECFA, which conducts research on the construction markets of eight Eastern European countries, has released its 2018 Winter Construction Forecast Reports.
For the region as a whole, the new forecast sees a small downward revision. However, on a country level, the stories are different, with less optimism about Croatia, and more optimism in Serbia and Slovenia compared to the previous forecasts.
In Romania, the largest construction market of this region, the outlook of the building construction submarket has been adjusted downward.
EECFA said that in many of its previous forecasts, it had argued for a soft-landing scenario in Turkey. However, the dramatic fashion of the currency depreciation in the summer of 2018 was said to have unearthed many structural problems in the construction industry and caused EECFA to revise its forecast to an even more pessimistic one.
"Unlike the stop-and-go like reactions to previous crises," it said, "we tend to believe in a stop-and-stay scenario this time."
Bulgaria
EECFA found that construction output in Bulgaria was speeding up with an expected growth of 7.4% in 2018. Residential construction continues to expand on the back of increases in economic activity and real disposable income, and historically low interest rates on housing loans.
Additionally, the non-residential segment was also predicted to grow, driven mainly by office and industrial constructions. Civil engineering construction has continued its recovery path in 2018, said EECFA, while the planned start of long-awaited infrastructure projects funded by the EU in 2019 and 2020 were considered to be likely to add more fuel to the segment. Therefore, total construction output is forecasted to increase steadily by 7% in 2019 and 6.4% in 2020.
Croatia
Croatia's construction sector was said to be maturing, as catch-up growth slowed in several subsectors. But the situation was described as complicated, since catch-up growth continued strongly in other subsectors and overall output levels remained high in a number of subsectors in which growth had declined.
Making matters still more complex, Croatian construction was felt to be vulnerable to shifts in tourism demand, Russian sanctions, continued large-scale emigration and poor government performance in drawing down EU funds.
"All in all, careful analysis of trends in individual subsectors is required to obtain even the most basic understanding of the Croatian construction sector," said EECFA.
Russia
The overall slowdown in the Russian economic growth recorded in the second half of 2018, the completion of many major infrastructure projects such as the Crimean Bridge, World Cup facilities, etc, and the resulting decline in growth rates in civil engineering have led EECFA to forecast minimal growth for the total construction market for 2018.
Despite this, it said that residential construction in 2018 to 2020 should receive a record amount of state funding under a new national project, and so could become the flagship of the whole construction sector.
Non-residential construction in these years was said to be likely to demonstrate recovery trends as a result of the public investments – in the education and health segments, as well as agriculture.
In civil engineering, on the contrary, a decline is expected in construction volumes because of the gradual completion of big-league gas pipeline projects and a number of transport and energy projects.
Romania
Construction activity in Romania is estimated to have grown by 5.9% in 2018, lower than EECFA's previous estimates of +7.1% in summer 2018.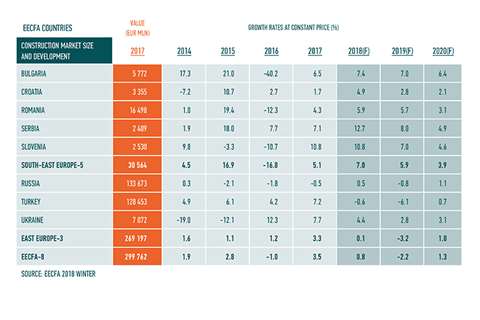 Residential construction is a major contributor to present and future growth, but there were said to be signs of deceleration as a result of the threats of oversupply, increased labour costs and more expensive mortgages.
Non-residential construction should also continue to expand in the forecast horizon, but growth in the longer run will be capped by the limited available workforce and higher labour costs. After a double-digit decline in 2016 and 2017, civil engineering was predicted to pick up speed by the end of the forecast period.
"We can conclude that prospects for the Romanian construction market by 2020 continue to be positive, even if slightly less optimistic than before," said EECFA.
Serbia
Construction outputs in Serbia have been expanding in a very strong cycle supported by increased investments in both public and private spheres, said EECFA.
A particular boom in growth has been recorded in residential construction, but non-residential segments were also found to be riding the wave, with retail being the star performer. The number of issued permits is breaking all-time records across all subsectors, promising a strong recovery with the often-double-digit growth throughout this forecast horizon.
Civil engineering was also showing acceleration, with large-scale projects in road, railway and energy segments expected to fuel a sustained growth even beyond 2020.
Slovenia
The Slovenian construction industry grew rapidly in 2017 and was thought likely to continue its strong rebound from the stagnation it experienced between 2011 and 2016.
In 2019, total construction output should reach €3 billion for the first time since 2010, according to EECFA. The strong economic growth is said to be fuelling both private and public investments in construction that are increasing in most segments. With the continuation of growth forecast in 2019 and 2020, construction should continue to expand, and there is even a strong upside potential in case some long-delayed large civil engineering projects start in this period.
Turkey
The Turkish currency crisis this year has had an impact in terms of inflation, consumer and producer prices, and construction costs.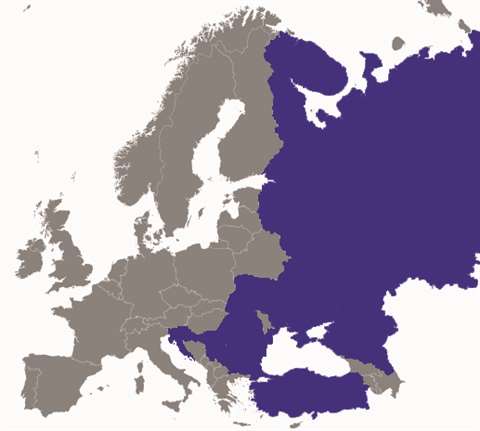 EECFA found that construction permits underwent a massive slump in the first nine months of 2018. Occupancy permits were left intact, though, probably because of the significant backlog of construction.
It said that mortgage interest rates had undergone a rise of about two-and-a-half times, but housing sales had not altered much, though the number of borrowers plummeted.
Civil engineering projects will be affected by a presidential decree that halted the launch of new public projects. The current high interest rates will make financing more expensive, said EECFA. It added that the government's priority was to achieve price stability which it said was a prerequisite to get back to a growth path.
Ukraine
Ukraine's construction industry continues to grow, but EECFA said that trends in various areas of construction were significantly different.
In the residential subsector, the market is saturated, and supply is exceeding demand. Many residential complexes are under construction, but the profitability of housing construction is falling because of higher competition and cost, and demand remains limited due to the low purchasing power of the population, said EECFA.
And low demand and lack of mortgages do not promise good prospects for this market segment, it added.
The stabilisation of the country's economic situation, reflected in positive trends in the real estate market as a whole, has not yet had a considerable effect commercial real estate segment though, and there are no major investments here, the research found.
Civil engineering construction has the highest growth rates, EECFA said, primarily thanks to the increase in budget financing for the development of transport and energy infrastructure.