GPD's total solution for MEWP batteries
By Thomas Allen29 October 2019
Leading Chinese smart charger and battery management solution manufacturer Green Power Design (GPD) launched a new total solution at this year's APEX Asia exhibition.
From its manufacturing plant in Dongguan, China, the company makes battery charging systems for a range of electric vehicle applications, including boom lifts and scissors, and it predicts that Li-ion batteries will increasingly be adopted by MEWP manufacturers in the near future.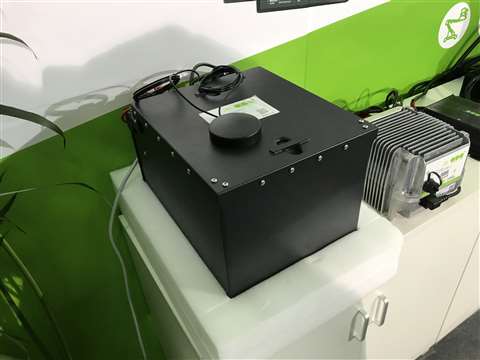 For this reason, GPD has introduced its prototype MEWP Smart Power Source Total Solution, which comprises a high-capacity Li-ion battery, a fast charger and a 4G battery monitoring system.
The system has been developed in partnership with JLG and is still in the testing phase, but it should become commercially available next year.
GPD's CEO Jackson Lam said, "It demonstrates that we want to be a one-stop-shop for energy solutions."
The Li-ion battery can be fully charged in 3 hours and has a lifespan of up to 2,000 cycles.
The solution's IoT (Internet of Things) monitoring system is called the Y-Hub Smart Battery Monitor and it allows the various products to communicate through a CANBUS. Data about usage is processed in the cloud and can be accessed via the Y-Hub App.
"Since batteries are one of the highest maintenance costs for MEWPs, it's important to look after them," said Lam.
He highlighted the fact that the monitoring system can help rental companies to support their customers because it gives them visibility of how the charger has been used and allows them to diagnose faults remotely.
GPD's chargers are all safety certified, and they are IP66 rated, making them suitable for harsh working environments where there is dust and water. They also have a wide range input, allowing them to be charged anywhere in the world.
About 80% of GPD's revenues come from within China, but the company is looking to sell more abroad. GPD currently has dealers in Japan, Korea and some other South East Asian regions, and it is looking to develop partnerships in Europe and the US. Its main competitors outside China are Signet and Delta-Q, according to Lam.