GPS & telematics: monitoring the fleet
By Joe Sargent25 November 2020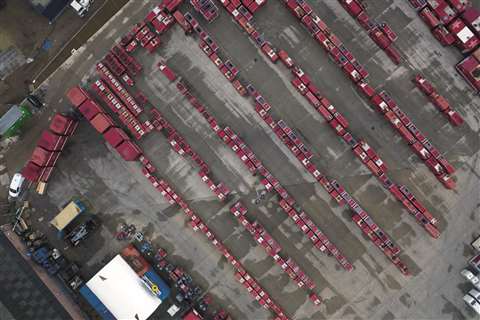 There is no denying that telematics is about data – and lots of it. It's arguable that the prospect of analysing this big data doesn't exactly inspire the average business owner to immediately invest in these tracking systems. Nowadays, however, as with the rest of the technology industry, GPS and telematics tracking has a great deal more to offer in construction, becoming more a part of an evolving ecosystem than a stand-alone product. 
Sifting through the vast amounts of data generated by a fleet might seem a daunting task, let alone attempting to understand what the individual metrics mean. Earlier this year, Danish telematics company Trackunit brought many areas of the industry together at an event called Predict Summit 2020.
At the event, Trackunit championed the goal of eliminating downtime in construction machinery by 2025. 
The big problem
Trackunit said downtime costs companies millions in profits each year and advanced the notion that technology companies, equipment manufacturers, rental firms and contractors alike should join forces to nurture a proactive ecosystem that utilises the data collected by software companies and prevent it.
According to Soeren Brogaard Jensen, CCO with Trackunit, there's a delicate interplay on today's most advanced jobsites between the OEMs who build the equipment, the rental companies who often supply it, the professionals planning the project and the workers operating the machines.
"We've started to think about telematics as something that is animating and improving collaboration across the ecosystem," he says. "Stakeholders have come to appreciate that if we can let the most relevant data flow freely between corridors, everyone wins. We see more companies getting out of the old habit of creating data silos where whoever pays for the machine owns the data."
It is hoped that by 2025, AI (artificial intelligence) companies will have developed advanced capabilities of interpreting the mass data provided by sensors on contractors' machines better than humans to pick out warning signs, stay on top of maintenance schedules, reduce machine idling and improve forward planning.
There are endless metrics that can be measured, and only a portion are relevant to the average equipment owner. The remaining bulk of the data, however, can be extremely valuable to the OEM and is easily accessible through an application programming interface (API) that connects each piece of equipment with a server that collects information.
A new business model?
This raises an interesting prospect for OEMs when it comes to component failure and replacements. If the OEM or dealer detects that a part needs replacing, they will be able to contact the machine owner to arrange the necessary works, but could that lead to a changing business model across the board?
Perhaps part replacements, for the sake of ending preventable downtime periods, will be on a rolling subscription basis. This would naturally be down to the OEM's discretion but it seems likely that telematics companies will be dealing with OEMs more directly in the future rather than contractors.
Alternatively, companies like SmartEquip may move more into the foreground as a one-stop shop for parts and service information. Founded by Dr Alex Schuessler, SmartEquip was created with the intention of improving uptime in equipment while providing a solution that caters for a diverse fleet, rather than a single OEM.  
Back in the summer months, Trackunit also hosted its first Eliminate Downtime industry conference alongside BAM Nuttall. Again, the event sought to bring together construction companies, machine rental firms and digital technology businesses to share their experiences of downtime across the construction value chain and advance solutions that improve productivity, safety and profitability.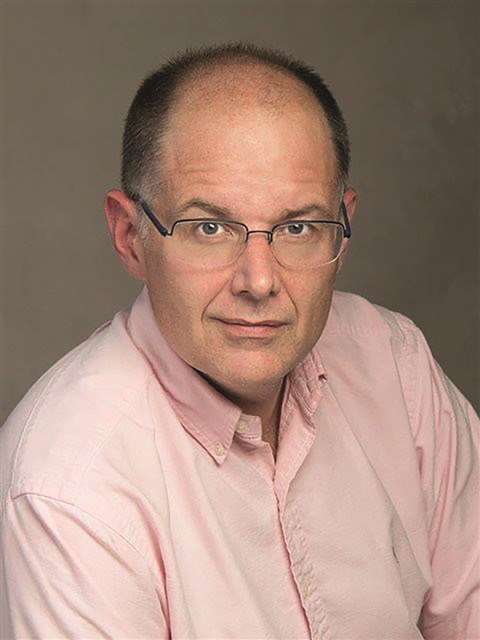 Holger Pietzsch, VP Marketing, Heavy Construction, Hexagon Geosystems
There was consensus among those speaking at the conference that collaboration, open communication and redesigned processes are essential in the fight against downtime. They also agreed about the importance of staff training and incentivised technology uptake.
One example given illustrated how the use of telematics on aerial work platforms working on a major hospital redevelopment project helped to reduce unauthorised machine use and theft, as well as leading to a 10% drop in breakdowns.
Spatial awareness
Although we have a lot to learn from about the machines from the collected data, the machines can also teach operators more about the way they need to dig.
Holger Pietzsch, heavy construction VP of marketing at Hexagon's geosystems division, Leica, explains how telematics also provide the benefits of operational efficiencies and jobsite performance.
"You own these excavators to move dirt, and you need them to move dirt on time, upon spec and on budget," he says. "Ultimately, if you don't move the dirt where it needs to be moved and when it needs to be moved, you don't get paid. Our technologies focus more on improving how much dirt is moved and was it the amount it was supposed to be."
With that in mind, companies like Leica are offering technology such as machine control guidance – an early form of autonomy – that allows construction professionals to perform their work more precisely.
"Now someone can sit at their computer and design a ditch and then download that design onto a piece of equipment, such as an excavator. The machine actually then becomes spatially aware," Pietzsch says. "When the excavator starts moving dirt, the technology tells the operator they are no longer digging straight or they're too deep or they've got to turn. The technology starts interacting directly with the machine."
Once machines have this basic level of "intelligence," Pietzsch says they can become part of the larger "ecosystem," sensing what needs to be done and providing feedback to the operator so they can adjust their behaviour for greater productivity.
The issue of retrofitting
It sounds ideal, to have a whole fleet connected to the Internet of Things (IoT) but the reality is that some machines are older than others and may not be replaced for some time.
Dick Klaassen, founder of tracking and monitoring provider Xeelas, discussed these challenges and more with then International Rental News editor, Thomas Allen.
Connecting the fleet is only the beginning of the journey, says Klaassen of Xeelas
Klaassen said, "When we discuss remote monitoring projects, there is plenty of talk about pay-per-use, paying per kilowatt or degree. At the moment this is more talk than execution. Before you can work with such models, you need a lot of information about your equipment. For instance, how much energy it consumes and how your customer uses it. This is where IoT with its remote monitoring comes in. You learn more about your customers' behaviour, and you will be able to use what you have learned to build a price model.
"A major challenge in connecting your fleet of machines is that there is always horizontal and vertical differentiation. This makes it difficult to connect a fleet as a whole. If we look at generators, for example, generator power can range between 35 and 2,000kVA. Such a wide spectrum means completely different machines with different use cases and support needs. Then there is a variation in construction and types, because generators from 2005 differ from those constructed in 2010 or 2018. Brackets may be placed differently, control elements might have changed, or connectors and sensors differ.
"In addition to that, having a variety of sensors in your machines will result in different signals. You have to be able to read all of these signals to determine the actual fuel level. For this, you must connect the machines, which will be difficult, due to the aforementioned variation and construction differences. On top of that, different types of machines will give different signals when it comes to fuel levels, running hours, the alarms they generate, and the number of amps used. You are in danger of missing out on information – a big obstacle to achieving scalability."
The end game
Despite these challenges, some companies are already making this step in their latest machine offerings.
Technology firm Topcon Positioning Systems provides some of the most advanced and precise GPS positioning technology coupled with advanced sensors, controllers and easy-to-use on-board software.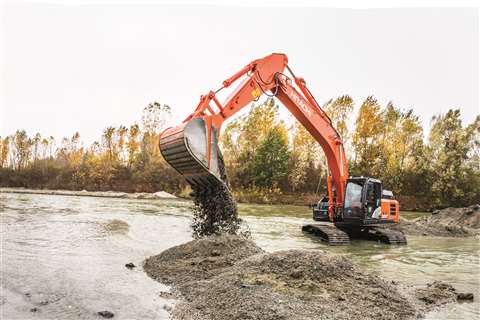 A new partnership between Topcon Positioning Systems and Hitachi Construction Machinery UK (HCMUK) is in place with both companies working to provide automated machine control technology with promised productivity improvements of 30% or more – even for experienced operators.
The partnership will see HCMUK install the Topcon X53-x automated machine control system on its range of excavators, working in harmony with Hitachi's own telematic tracking software ConSite. This will give users access to technology that allows for a more efficient workflow, by minimising the risk of over-digging while improving productivity.
The Topcon X-53x uses some of the same components as Topcon's original machine control system but has been designed and developed with the addition of hydraulic, automated control. The system provides automated depth control, meaning digging to a design in flat, stepped or sloped applications is done more precisely.
David Roberts, CEO of HCMUK, discussed the reasons for implementing the technology, "Our customers are increasingly looking for enhanced productivity and efficiency in their excavators and, with connected technology like ConSite, Hitachi has been proactive in providing solutions for some time now. By entering into this partnership with Topcon, we are taking our intelligent machine offering to the next level, allowing our customers to choose from a base kit to future proof their fleets, through to full automation as seen on the ZX225US-6.
"As well as the many benefits that this technology provides, our customers have the added peace of mind that it is installed by Hitachi-trained technicians at our state-of-the-art preparation centre in Newcastle – supplied as a complete package, ready to go to work upon delivery. We're excited to work in partnership with Topcon to achieve a common goal of ensuring our customers get the products and support they need."
Dave Bennett, managing director at Topcon Positioning GB, said, "The demand for intelligent machine control systems is continuing to grow across the UK and, at Topcon, we're committed to always being one step ahead to ensure construction professionals have access to the best possible equipment – which is why it's great to work with a company like Hitachi. The innovative X-53x is improving efficiency and accuracy for machine operators across Europe, and we're looking forward to seeing how it can improve workflows for Hitachi's customers."
DPL's new anti-tamper GPS tracker
DPL Telematics, a provider of asset monitoring and telemetry technologies, has launched a product called AssetView Max Tracking System and is designed with affordable, anti-tamper battery powered GPS tracking in mind.
The company claims that the product delivers the industry's longest-lasting battery-powered GPS tracking solution, lasting up to 10 years on D-sized batteries.
AssetView Max is said to be a self-contained and easily concealable solution for wireless monitoring and remote tracking of any powered or unpowered asset to improve logistics, manage inventory and curb theft.
Owners can remotely monitor any asset accurately from an internet-based software package and mobile app, reducing theft, preventing loss and helping to manage inventory.
The AssetView Max combines multiple technologies to maximise battery life while operating and remaining active in extremely low power modes. The Max is powered by 2 x D LTC "off the shelf" batteries, with low power notifications remotely alerting customers if the batteries get low. To prevent tampering, the unit immediately notifies via text and email if it is removed from the host asset and delivers a mapped location of the event.
The AssetView Max's proprietary TruTrace Adaptive Tracking technology increases its reporting frequency when movement is detected and automatically reduces it when stationary. This intelligence delivers long battery life while actively alerting on curfew violation, movement or geofence breach as well as allowing the user to switch to "Recovery Mode" over the air.
"The AssetView Max is the longest lasting, self-contained GPS tracking solution available delivering nearly a decade of battery life without sacrificing two-way communications or real time alerts. Its rugged design and affordable price point allow anybody to easily track nearly anything, regardless of its power source," said Tony Nicoletti, VP of Sales and Business Development at DPL Telematics.
"Customers control their monthly subscription with the option to deactivate and reactivate as needed without penalty, which is ideal for seasonal or demand-based usage."
Electric mining automation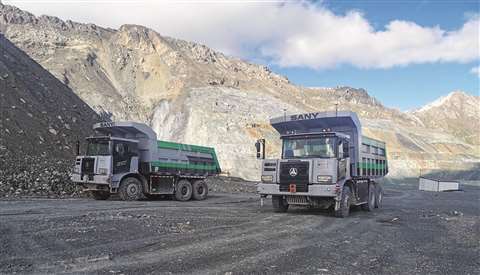 With the new 5G mobile network on the horizon, real-time tracking will soon be more accurate, with minimal connection delays between receivers. This grants the possibility for remote-controlled machinery to be operated at a distance using on board telemetry sensors.
Chinese OEM Sany has reported that two units of electric unmanned SKT90E wide-body mining trucks successfully connected with a 5G remote-controlled excavator, meaning that the task could be completed with no danger to any operators.
These two SKT90E wide-body mining trucks were said to have demonstrated high-level environmental identification and positioning capacity, conducting timely decision making and accurate route planning in the operation field.
The deviation of the horizontal control of the unmanned operation can be kept under 30cm and the truck can independently complete route tracking, the loading and unloading of materials, and parking.
With the support of multiple sensing technologies, including millimeter-wave radar, laser radar, and visual sensor, the truck can conduct the scanning and tracking of obstacles within 150m. It can also implement distance ranging and identification within 100m in response to different weathers in different seasons.
According to Sany, intelligent decision-making includes the automatic creation of the three-dimensional map of routes in the mine with laser radar, independent obstacle avoidance and optimisation of driving routes with dynamic simulation.
 This article first appeared in the November/December issue of Construction Europe magazine.
Click here to register for a FREE subscription and receive every digital issue of the magazine.