Green launches from Genie
By Euan Youdale01 February 2019
Genie will launch a range of products at Bauma, held in Munich, Germany, during April, following the theme of green solutions and lessening environmental impact.
One of them is a second hybrid boom lift in its fuel-electric (FE) range, that will offer the same benefits as the original 20.16m working height Z-60/37 FE model.
This new 2-In-1 hybrid machine will combine the 4WD all-terrain abilities of traditional diesel-powered units, the emissions-free benefits of 100% electric equipment, plus the ability to recharge the battery while working. More details will be revealed closer to the show.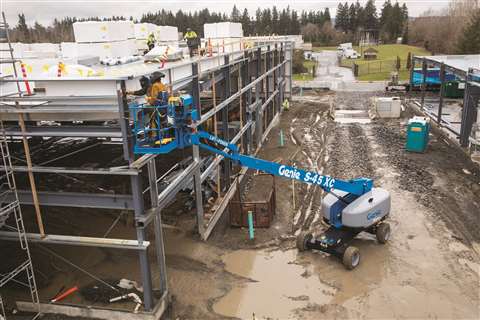 Following the introduction of the established XC boom family, Genie will launch the S-45 XC boom lift, rounding off the telescopic range. (In a category of their own Genie SX-150 and Genie SX-180 booms lifts are not part of the Genie Xtra Capacity (XC) range).
Representing a modernised version of its predecessor, the new S-45 XC offers a working height of 15.72m and a horizontal reach of 11m. As applies to all Genie XC models, the S-45 XC combines a dual lift capacity of 300kg unrestricted and 454kg restricted to provide twice more lift capacity than its predecessor.
As part of the Genie XC capabilities, the new model features automatic envelope control and a load sense cell that continuously checks the weight in the platform and limits the operating envelope. Compared to the previous version of the model, gradeability has been improved to 45%. Its jib is easily capable of handling the maximum capacity. It will be available EMEAR-wide from April 2019.
New tracks
With the upgraded Genie S-65 TraX boom lift, on show at Bauma, customers of this model can also now benefit from the Xtra Capacity (XC) technology. It offers a working height of 21.81m and horizontal reach of 16.51m, plus the previously mentioned dual capacity and other XC benefits. The model retains its four-point track and patented active oscillating axle system. Produced in Umbertide, Italy, it is available EMEAR-wide during the first quarter of this year.
The new low level Genie GS-1330m electric scissor, launched at Bauma China in November last year, will be there too. The micro-sized model responds to worldwide demand for green, compact, low-level access adapted to space and weight-restricted applications. With a maximum platform height of 3.9m and working height of 5.9m, the GS-1330m offers 227kg lift capacity for two people in the platform, a machine weight of 885kg and the Genie Smart Link control system, compatible with the Tech Pro Link handheld diagnostics tool. It is designed to access jobsites previously off limits to heavier slab scissors and vertical masts.
Developed in direct response to rental customers' business needs, the new Genie Lift Connect programme is a telematics offering focused on actionable information, flexibility and transparency. See the full story on www.khl.com/ai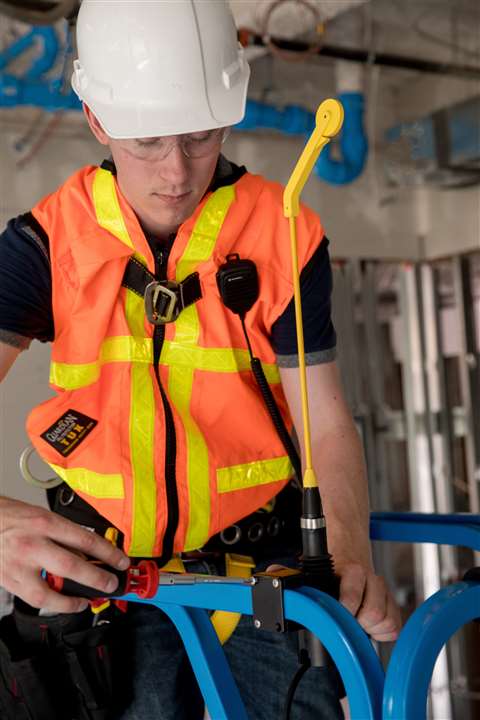 Following a pre-production preview in the UK in May 2018, the Genie Lift Guard Contact Alarm system for slab scissor lifts and vertical masts will be officially launched at bauma. The secondary guarding equivalent to that available on boom lifts, an alarm activates when an obstruction makes contact with any one of the whiskers mounted on the platform, alerting operators, occupants and ground personnel to a potential hazard.
In addition, the bolt-on Genie Fall Arrest Bar accessory, to provide operators more space to move around working on adjacent structures outside the platform, has now successfully passed the dynamic fall arrest anchorage test in line with ISO 16368. This tests to withstand the force of a free-falling 136kg mass. As such, the Fall Arrest Bar is the first formally certified personal protective equipment (PPE) of its kind to meet current EU PPE regulations.