Green light for €1.1 billion London redevelopment
By Joe Sargent23 October 2020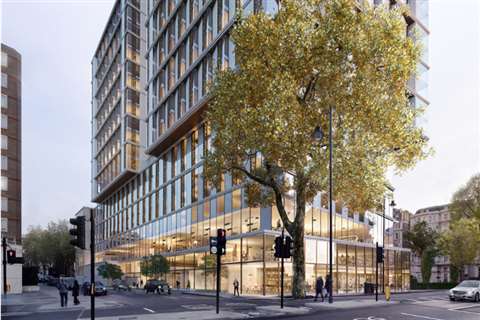 The Kensington Forum area in London, UK is set to be redeveloped after receiving planning permission for a new "world-class" hotel worth over £1 billion (€1.1 billion), with a serviced apartment scheme, 62 affordable homes and additional public realm improvements.
The permission, granted by the Greater London Authority (GLA), has been given to Queensgate Investments and Rockwell to replace the existing 906 room hotel currently situated on the site.
The new development, designed by architectural specialists SimpsonHaugh, is intended to provide outstanding visitor accommodation for the future including restaurants, bars, health spa and conference facilities.
Alongside the hotel will be a new, publicly accessible and sensitively designed 2,700m2 garden area, more than doubling the size of the existing green space, which will be the only publicly accessible green area within 1km of the site.
Following the redevelopment, Kensington Forum is set to provide over 800 employment opportunities, in addition to 62 affordable rented homes, worth £90m, for Londoners on low incomes.
This housing, the developers claim, is the capital's first private development to deliver 100% genuinely affordable homes.
Furthermore, the developers state that substantial contributions of almost £3 million (€3.3 million) will also be provided for public realm improvements to the area around Gloucester Road station, in addition to over £1 million (€1.1 million) to training initiatives to ensure jobs are created for the most in need.
Discussing the scheme, Deputy Mayor for Planning, Regeneration and Skills, Jules Pipe, commented, "There is desperate need for social housing across London… If we are to deliver affordable homes and other benefits for London, we must ensure we make the best use of land.
"As well as improvements to the architectural quality, when compared to the existing building, the development includes a number of other significant benefits such as the addition of much-need affordable housing, a reconfigured public garden square, additional jobs, improved visitor accommodation and public realm improvements."