Grimm build for Proschwitz & Schröder
By Laura Hatton29 April 2015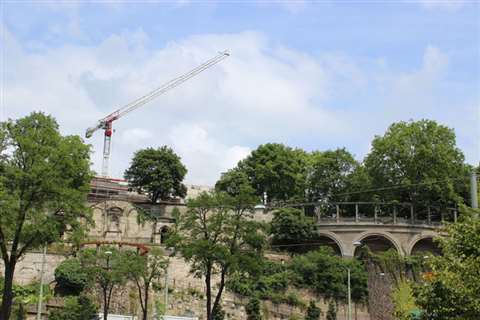 Crane rental company Proschwitz & Schröder Baumaschinen used its Terex CTT 161A-8 flat top tower crane to construct a museum in Kassel, Germany.
The five-storey Grimm-Welt museum is being built on behalf of IHB Ingenieurbau Schleusingen.
The tower crane was transported 350 km from the company's headquarters in Beilrode to site on seven trucks. It was erected freestanding on a C45 cruciform base with a jib length of 60 metres and a hook height of 33 m. Tasks for the eight tonne capacity tower crane included lifting construction materials with a weight of up to 2.1 tonnes at the jib tip.
Jürgen Schröder, Proschwitz & Schröder managing director, said, "When we're doing projects in the middle of a city and are in the process of choosing the right crane, we always need to take the corresponding power requirements and inrush current into account in order to make sure we won't be causing problematic voltage fluctuations on the public grid."
Benjamin Wanka, IHB Ingenieurbau Schleusingen site manager, added, "The construction work we were doing meant that the museum wasn't able to operate normally, which of course meant that we were under a lot of pressure to finish the entire construction project on time. Now, when you look at it from that point of view, it's easy to see that we really needed the crane to work smoothly and reliably for the entire seven-month construction phase."
The crane will be on site for seven months.