Groundforce designs 750t hydraulic strut
Groundforce, the UK shoring rental business, has launched what it describes as "the largest proprietary strut on the market" with a load capacity of 750 tonnes, suitable for heavy-duty ground propping.
The MP750 is capable of resisting working loads of up to 750 tonnes and connects directly to the company's 1220mm diameter Super Tube extensions. Spans of up to 50m are possible.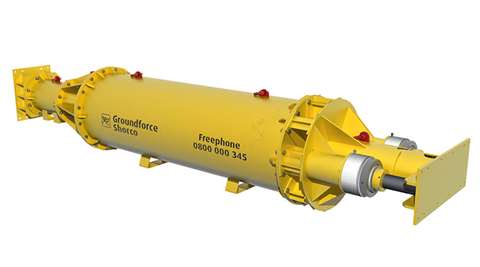 Designed in-house, the MP750 can be used with a load and data monitoring system, and also employs Groundforce's hydraulic nut technology.
The hydraulic nuts offer the ability to both pre-load the MP750 to a high level during installation and provide a controlled means of releasing the strut under load. Without this technology, said Groundforce, traditional mechanical systems can be problematic to remove under load.
Groundforce, which is part of VP plc, is a market leader in the supply of equipment and propping solutions to some of the UK and Europe's largest construction projects.