Growing importance of Chinese rental for Yacontee
By Thomas Allen23 October 2019
Shanghai Yacontee Industrial, a Chinese distributor of European access equipment, is expecting the proportion of its sales to rental companies to grow from 15% at present to 50% over the next few years.
Wenjie Zhang, Managing Director of Yacontee, said, "Rental is booming in China, which is a great opportunity for us."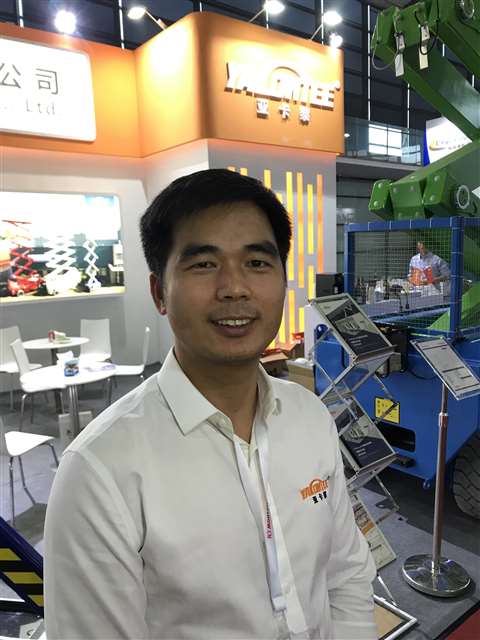 Historically, a lot of machines have been sold to the government, but with the increasing adoption of rental, the government is buying fewer machines – instead opting to rent – and growing rental companies are purchasing more equipment.
"The rental proportion is expected to get to about 50% because rental companies are increasingly demanding larger equipment," said Zhang.
As examples of its rental customers, Zhang mentioned CNN Lift, Shanghai Man Lift and Beijing SSCT.
Zhang also said, "It's easy to sell machines, but after-service is a challenge. So this is a focus for us."
The manufacturers that Yacontee represents support the distributor by providing spare parts and training. For example, Holland Lifts' service manager visits Yacontee once every two years, and Yacontee regularly sends its personnel to Holland Lift for training.
"We have a big service department to provide customers with spare parts, maintenance, repairs and training," said Zhang.
This includes a new IPAF training centre at its Shanghai office, which opened last year in response to the increasing emphasis being put on safety as a result of government regulation.
Training at the centre is focused on spider cranes, but the company now has a license for scissor lift and boom lift training. Customers are invited to the office for the theoretical training, and then they are taken to Yacontee's workshop, also in Shanghai, for the practical training. No training simulators are used yet.
Yacontee started business in 2005, but this is the first year it has exhibited at APEX Asia.
The distributor's niche is large scissor lifts and large spider lifts, rather than the smaller equipment that is already abundant in China.
It has been representing Holland Lift for about 12 years, Haulotte for just over 10 years, and ATN, Cela, Falcon and Bluelift for five years.
Yacontee has seen demand for even bigger machines than it stocks, so the company is encouraging the manufacturers to produce larger models. However, Jacco Hartkoorn, International Sales Manager at Holland Lift, said, "We are reluctant to do so because we don't think there is enough demand yet to warrant the investment required to develop new machines. Also, there would be issues with the transportation of such large equipment."