Growth in Spain's rental market
By Belinda Smart17 January 2023
In part two of IRN's coverage of an industry mission to Spain in September, Belinda Smart speaks to OEMs about the ways in which they're focusing on rental and dealing with market challenges.
"We have a clear focus on the rental channel, and the businesses in this sector are able to find durable, high-performance and easy-to-use models in our product range, maximising their return on investment.
"It is also vital for us to offer an excellent after-sales service to ensure customer satisfaction."
Speaking to IRN at Ausa's Manresa (Barcelona) headquarters, Ausa Commercial Director Juan Urkijo tells IRN the rental market is considered an essential part of Ausa's business strategy; rental companies like Loxam and Kiloutou, as well as Spanish business GAM are historic Ausa customers.
And Ausa, which manufactures 16 different dumpers as well as forklift and telehandler models, has continually finetuned its offer to the rental market, he says.
2021 saw the launch of Ausa Now fleet management software, which allows the user to obtain real-time information so that they can make decisions based on analytical data or connect security alarms.
Electric-powered machinery 
IRN's visit to Spain pre-dated Bauma, but at the time of the visit, Urkijo told IRN the market could expect the launch of a new electric offering at the trade fair.
Visiting Bauma in October, IRN saw the new releases first hand: the D151AEG dumper with a 1,500 kg payload and the T164E telescopic handler with a 1,600 kg payload and a maximum lift of four metres.
The D151AEG dumper is Ausa's first electric dumper and is designed for working in small spaces, while the T164E is the first electric telescopic handler with a 1,600 kg payload on the market designed for use in emission-free spaces including interiors.
Both vehicles work with a charging cable, so they can be connected to the mains via a 110 V, 230 V or 415 V socket with a fast charger whenever necessary.
The machines are designed with an operating range of at least one full working day.
The li-ion battery pack is managed electronically to offer maximum power. When the accelerator is released, the electric motor reduces speed instantaneously while the energy is regenerated, extending its range.
How has the war affected Spain's rental market?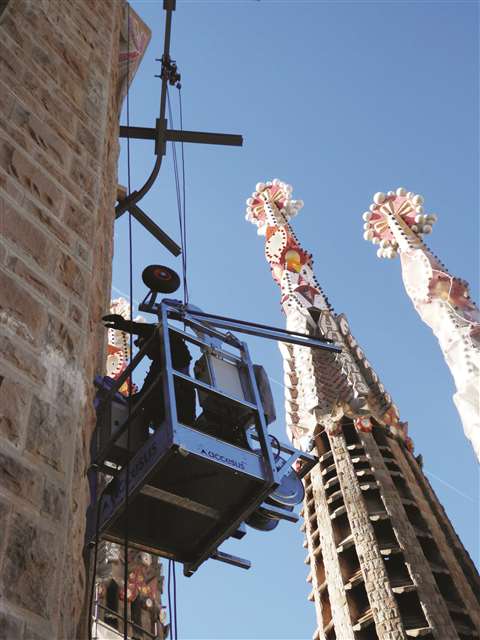 Few businesses have avoided the effects of the supply crisis and the war in Ukraine, and Ausa is no exception.
"We live in a flat, interconnected world, so Ausa is currently experiencing the same problems with supplies, costs and transport as the rest of the industry, which can put pressure on the supply chain, Urkijo says.
"For our part, bearing in mind that our top priority is satisfying our customers, we try to counter these problems by finding alternatives, so that we can meet our commitments: we are buying components with express deliveries, and we are also continually in contact with our suppliers, working closely with them to overcome any disruption to production and provide reliable solutions.
"We also continuously strive to offer the best possible value for our customers."
Growth of rental in Europe
Despite uncertainty in Europe and beyond, Urkijo tells IRN the outlook for Ausa looks promising, particularly in the US market, where it has operated since 2015.
Its success in that market resulted from working with large industry events, like the annual Golf Industry Show and the World of Concrete convention.
It also worked with golf course builders and construction contractors, to promote the benefits of using dumpers, he says.
"We are looking at expansion next year, across all territories in the US, where we rely on a good country manager."
In Europe, Austria, Germany, Switzerland and Czech Republic markets carry the "biggest concentration" of Ausa products. Expansion in Germany is also on Ausa's radar.
"The rental business growing," says Urkijo.
Access rental in Spain
Access specialists in Spain are utilising local expertise and linkages to the rental market.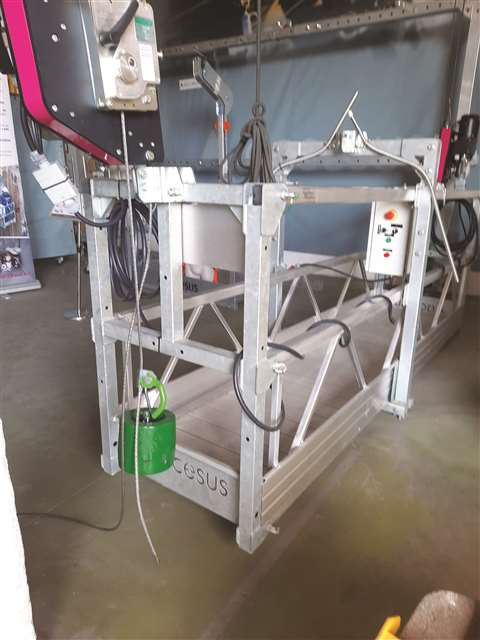 One example is Barcelona-based Accesus, founded 12 years ago, to specialise in suspended platforms, confined space solutions and solutions for bespoke projects.
Speaking to IRN at the company's offices, Sales Manager Manuel Manzano and Carmen Carvajal, PPE & Distribution Manager, says Accesus works via a range of channels, with rental regarded as key.
Accesus' point of difference lies in its modular design, using standard parts to create 100 different suspended platforms – including hexagonal platforms for use in industrial chimneys or towers, Carvajal tells IRN; "Or for example on a crane, the bucket size can quickly be doubled."
"We can also change the colour of each machine for rental companies."
"All Accesus products are locally made – designed in-house and welded by a company in the Basque country," she says.
Located in Bilbao, Biscay, another access specialist Alba produces rack and pinion hoists, such as the MC range, which hoists material up to 2000 kg at 250 m high, as well as passenger material hoists (PMH), transport platforms, mast climbers and crane operator lifts.
It also makes cutting & bending machines and light machinery including pulling & lifting winches, cable cutters, bolt cutters, rough terrain pallet trucks and tile cutters.
On a tour of the factory, Director Raúl Gallo told IRN Alba was preparing for the Bauma launch of a passenger and material (PMH) hoist suitable for large scale buildings, with a range of up to 3200 kg or 6400 kg with a double cab.
Another highlight at Bauma was the PT1800, designed for transporting people and material, with a load capacity of 1800 kg. New is an updated control panel displaying data including maintenance information, power supply and overload warning.
Click here to read part one of IRN's profile of Spain's genset market.
Lubricant specialist's rental focus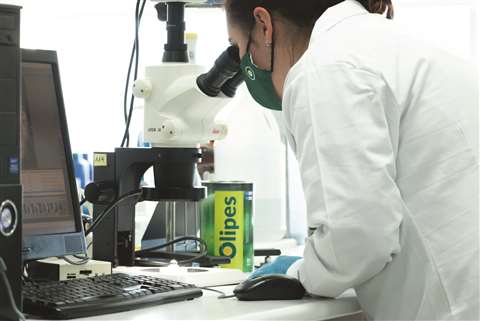 Olipes, based at Campo Real (Madrid) is one of Spain's leading manufacturers of lubricants, for 75 sectors including construction machinery and equipment.
At a presentation at its head office, Co-CEO Fernando Díaz Pernas told IRN the company has experienced 250% organic growth over the past five years as it pursues a strategy to work proactively with industry, including the rental sector.
It offers 600 lubricants and operates a warehouse measuring 18,000 cubic metre and an in-house laboratory, for sample testing; results are refined to the extent that Olipes can detect excessive wear through the presence of metal deposits. Olipe can then advise OEMs and end users on machine optimisation.
Díaz Pernas told IRN the company works with engine suppliers to the rental industry including Perkins and Cummins to ensure the correct fluid is supplied to customers.