GTC-500 new from Tadano Mantis
By Alex Dahm05 October 2018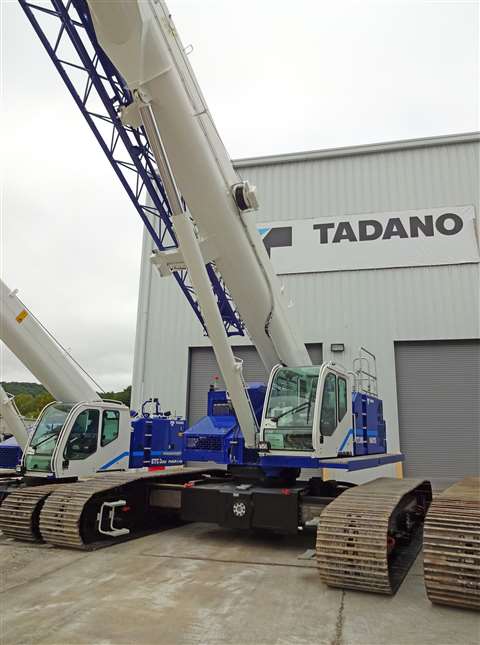 A new 50 tonne capacity model completes the Tadano Mantis GTC series of five telescopic boom crawler cranes from 35 to 120 tonnes capacity.
The GTC-500, designed and built in the USA, lifts 50 tonnes at 2.5 metres radius (50 US ton at 10 feet radius) and its four-section full-power main boom is 34.7 m fully extended. Maximum lifting height with full main boom and fly jib is 51.9 m.
Easy transport was a key requirement for the new model. It is designed to be a one-truck crane and comes in at less than 103,000 pounds (46.72 tonnes) which in the USA is the maximum weight for a standard truck load. At that the crawler side frames and tracks stay on, as does the counterweight, jib and two winches.
Versions with standard and extra counterweight packages are available at 17,400 pounds (7,893 kg) and 28,200 pounds (12,791 kg). A bi-fold jib is standard as is a tilting cab to 20 degrees. Like the other models in the series it is designed to operate out of level. The lifting chart at the maximum of 4 degrees out of level is more than 70 percent of the chart for level ground and keeps the 50 tonne rating.
It has the Opti-Width function to maximise capacity at any track width setting through 360 degrees. Power is from a 6.7 litre 260 hp (194 kW) straight six-cylinder Cummins QSB6.7 turbo diesel engine. Full radio remote control is now available across the GTC range. Other options include an auger, work platform and a cold weather package to -40 degrees centigrade.
The order book for the new model opens at the end of 2018 or early in 2019 and deliveries will start later on in 2019.
The GTC-500 joins 35, 60, 80 and 120 tonne capacity models introduced since development started in 2012. First launched was the 120 tonne model at the 2014 ConExpo show in Las Vegas, USA. The best-selling model this year is the GTC-800, having taken over from the 120 tonner which held the title in 2017.
Two models in the series, the GTC-800 and GTC-600 have CE marking for sale in Europe. Next to have it will be the 35 tonne capacity GTC-350 in the first quarter of 2019 and the new 50 tonner will have it too.