H N Construction buys Terex Explorer 5800
By Ian Vallely11 February 2016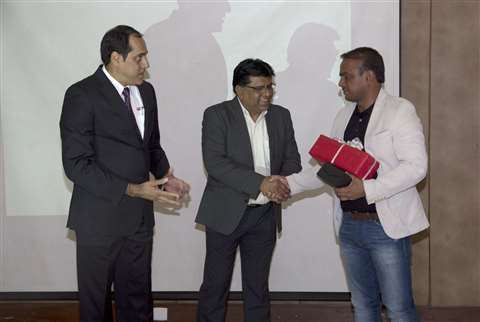 Indian company H N Construction Pvt of Bokaro Steel City has taken delivery of a Terex Explorer 5800 all terrain crane, the first of its kind in the country.
The company's Terex Explorer 5800 has a five-axle, all-wheel steer carrier that is 13.2 metres long and 3 m wide, and is configured with a 70 m boom and 21 m fixed jib. The crane is designed so that the 70.2 tonne counterweight can be automatically rigged, helping reduce setup time.
The Terex Explorer 5800 has one engine with a management system designed to enhance performance for both road travel and lifting. Fuel efficiency is maximised using stop/start technology for the upper cabin and engine remapping depending on what type of operation is being performed, lifting or travelling.
Rajnish Gautam, managing director of H N Construction Pvt, said, "We selected the Terex Explorer 5800 because of its versatility and compact size, as well as the reputation Terex has for quality and service after the sale.
"It is our first Terex Crane, but we plan to add more in the future. This unit will be put to work right away on the campus of Bokaro steel plant, one of oldest and largest steel plants in India."