HAE prepares for conference on 2 October
By Murray Pollok26 September 2018
Hire Association Europe (HAE) holds its annual conference in Loughborough, UK on Tuesday 2 October, with the event including a programme of speakers and a small exhibition with around 24 companies.
Speakers include HAE chair, Brian Sherlock, who is Managing Director of Brandon Hire and Hire Station, as well as representatives from companies as diverse as consultant McKinsey & Company, contractor Mace, media business ITV and software specialist HireHop.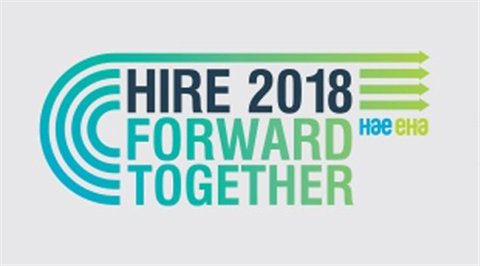 Topics to be addressed will include 'Leading roles for women in hire' (presented by three women employees of Vp plc); construction market trends; improving mental health in the construction industry; and 'reinventing construction'.
More than 20 companies will take part in the adjoining exhibition space, with all companies having a standard 2.5 m by 1.5 m stand. Exhibitors include Belle, Arcotherm, Euro Towers, Snorkel, MCS, Brendon Powerwashers, Husqvarna, insphire, Hilti, Karcher and Pop-Up.
The venue is the Holywell Park Conference Centre, Loughborough. For more information, and to register at no cost, visit: https://www.hireconference.org.uk/
Meanwhile, in November HAE will announce plans for a National Hire Week in the UK, to be held in late April 2019, culminating in HAE's annual awards of excellence dinner. One of the aims will be to promote careers in the hire industry, with members encouraged to reach out to local schools and colleges.